Our number one recommendation for travel is consistently Snow Mountain Ranch, between Winter Park and Granby in Colorado. If I see you on a regular basis, chances are, I have probably talked to you about it, and at this point, many of you have been there now, or plan to visit soon, with or without us. Why? The reasons are endless, but here are our top 5.
1) It's easy to be there.
We went to Snow Mountain Ranch on a friend's recommendation. The first time we went there, we weren't even comfortable in our own skin. As I've said before, even family parties were difficult with 5 children in tow.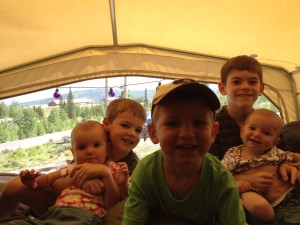 At SMR, the people are nice, and the weather is almost always beautiful. If it's not, don't worry, it will clear up within an hour or two most of the time… and rainbows almost always follow. Better yet, there are no mosquitoes at high altitude.
There is a 360 degree view, with paradise all around you. Wherever you turn, beauty surrounds you.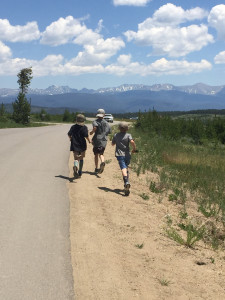 2) Affordability
Snow Mountain is a YMCA camp, so it's affordable. The activities range from $5-10, and many of them are free. Last summer, there were free s'mores available almost every day.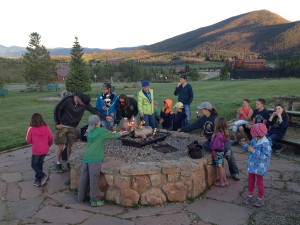 Lodging ranges from $38-150. If you have a YMCA membership anywhere, you get a $15/night discount. Every year we have been there, someone we know (or us) have won a two night cabin stay (with close to a $500 value, this feels like winning the lottery after camping for two months) at 'Cookies and Company.'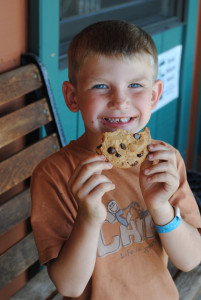 There are two big grocery stores within a 10 minute drive in either direction, so you don't really have to plan ahead much as far as meals go. In fact, gas grills are provided at the campground and the yurt village.
If you prefer to eat out, there is a grille on property,
as well as a full-functioning dining hall (which is free for kids 5 and under).
You can even pick up a free cup of coffee or tea from the library or grille.  SMR is only two hours from Denver, and you can sometimes find round trip airfare for under $100 (start following theflightdeal.com), making it an affordable, yet remote destination if you need to beat the 16 hour drive from Chicagoland.
3) Accommodations for all
They have accommodations ranging from camping to yurts to lodge rooms to small or reunion sized cabins. Our favorite accommodation is the campground of course. The sites are big and beautiful, and the kids make it their home within the first 10 minutes of arriving. The bathrooms are very clean, and perhaps the most unique feature is the infestation of hummingbirds, encouraged by the carefully supplied feeders.
There is a new shelter, where we like to meet friends to enjoy meals, protected from the sun.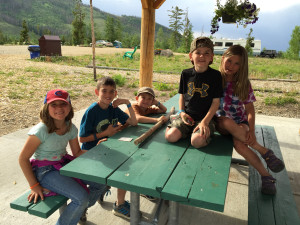 The yurts are my number one recommendation for non-campers. Friends who don't like to camp seem to be interested in an adventure, and the yurts appeal to almost all of them. The yurts accommodate 8, with a queen bed and two sets of twin bunk beds, and the option to sleep two more by sharing beds or setting up a small tent outside. They have a small fridge and microwave inside, and gas grills provided outside. The bathroom facility looks the same as the campground, but in reality, there are individually carded bathrooms that even have bathtubs inside. There is also a laundry room inside the bathhouse, unlike the campground (but the laundry facility for others is right next to the miniature golf course, so there is always something to do).
The lodge rooms are also a great option if you like a more traditional accommodation with your own bathroom. There are a few lodge choices, which range in price. The cabins are the most expensive option, but if you like having lots of space, your own kitchen, and a view like no other, the cabins are for you.
SMR has worked hard to get wi-fi in most parts of the grounds, so it is easy to communicate and keep up on work or what's happening in the world.
4) There are activities for anyone and everyone
As a die-hard outdoor enthusiast, even I realize that the kids don't want to be in a national park day in and day out, with options limited to hiking daily. While SMR does have hikes (guided or not),
there are so many choices of somewhere to go or something to do at Snow Mountain, and it's all right there on property. If you are in a group and some of you don't like one idea, there's plenty of options, making for flexible planning galore. Many of the activities are free, or very cheap. When you stay at SMR, free activities include a great miniature golf course,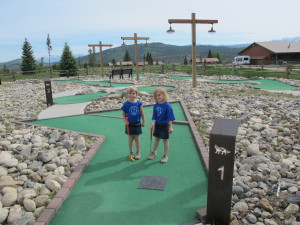 roller skating (free rentals too),
a variety of parks (as well as activities like horse shoes, tennis, or disc golf),
swimming in the pool, ball checkout or sports in the KIVA,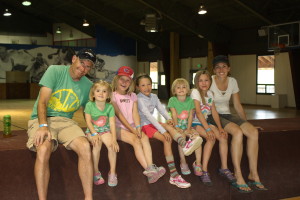 a library (you can play or check out books, games, and movies),
program activities like kite flying and dodge ball, geocaching (our first cache was discovered in the cave on property),
making walking sticks,
or just hanging out at the homestead,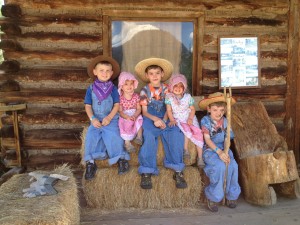 presentations on dog-sledding,
and night programming such as a birds of prey presentation,
square dancing,
amazing presentations by Paralympic athletes, and a visiting medicine man.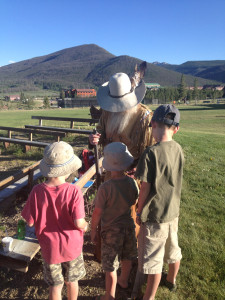 One of our best kept secrets is the trike park with endless fun for kids and adults.
Where else could you get the opportunity to paint a real pony,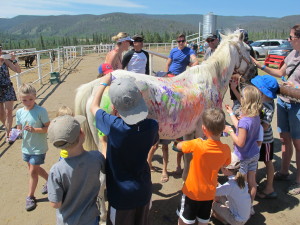 have the kids participate in human hungry, hungry hippos,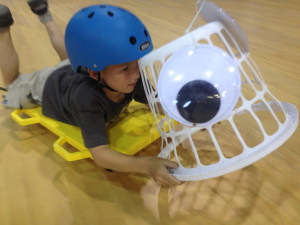 or compete in their own rodeo?!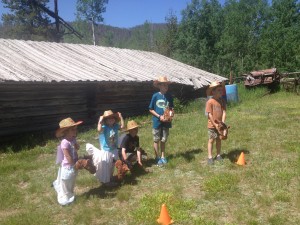 The newest addition to the free activity list is the very popular summer tubing hill, which even has a conveyer belt so you don't have to hike back up.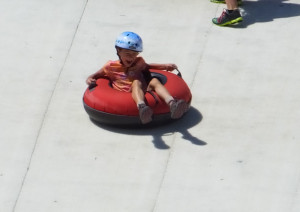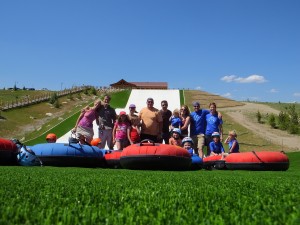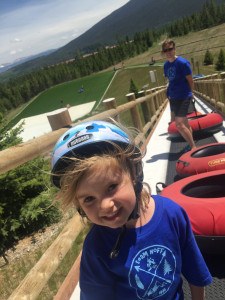 In the winter, the sledding is like no other. Rock climbing (indoor or outdoor) and archery are $5
and zip-lining is $10.
Head down to the reservoir for canoeing or fishing with a fisherman.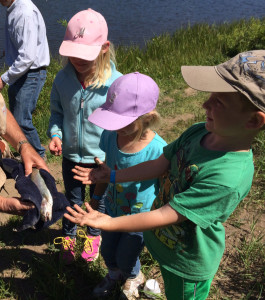 Take a fly fishing class, or rent a bike to tour the trails. During snowy months, you can rent cross country skis and snowshoes if you don't have your own. They even have a day camp, so if your kids need a break from you (or vice versa ;)), you can sign them up for a day or two (they have different themes each week and a variety of activities, depending on the day). Perhaps our kids favorite activity is the craft studio, where visitors of all ages can choose crafts from $1 up.
You can make family tie-dye shirts or adults can tap their creative side and sign up to take a pottery or jewelry making class.
There is also a privately run stable on property, where you can take a pony ride, go for a longer one, or even do a dinner barbeque ride.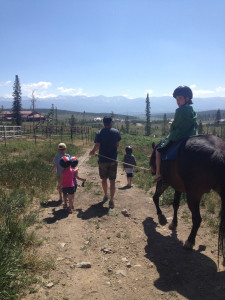 You can stop by the stable anytime to pet the sheep and goats too.
If you decide to venture out, Winter Park is right around the corner and Rocky Mountain National Park is only minutes away.
One of our favorite activities is hiking Adams Falls
and heading into the town of Grand Lake for ice cream and swimming.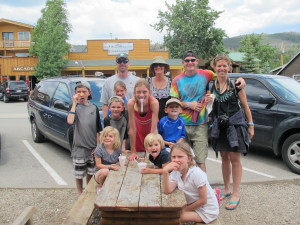 If you get lucky, you might even see a moose or two.
Granby Ranch offers an affordable ski alternative to Winter Park, and in the summer, they open up their lifts for hiking, great vistas, or picnicking for free.. or a small fee for mountain bikers.
You can also stop in nearby Granby at the castle park.
5) We are there… for a long time!
We would love to show you the ropes. This year, we will be there for almost 3 weeks. There is nothing like spending time on vacation with friends and family without normal daily obligations and distractions.
It gives you a chance to know each other on a different level, and brings lifelong memories that will keep you laughing for decades. The kids love waking up and being able to walk over to their favorite playmates site to start the day.
Even though we are fortunate enough to spend our time at SMR with many friends and family this year, we will miss seeing several of our favorite families, who will be there during a different time period. All joking aside, whether we are there or not, this is a place that any family would enjoy. There's something for everyone, and we can't think of a better place to make some fabulous memories!