Yellowstone and the Grand Tetons are magnetizing to me. We can't get within 200 miles of them without taking a swift turn to the north or south to spend a few days or even longer there. It's a destination almost always en route (or we make it that way) to wherever our annual trip takes us, which is why despite its long 3 day drive from Chicagoland, we've been there more than a dozen times. Almost like you've landed on another planet, everyone should get the privilege to visit there at least once in their lifetime. With several friends making a trip there this coming summer (including us), I wanted to tell you a few of our highlights!
While the Tetons are almost considered second fiddle to Yellowstone in regards to number of visitors, I would have to say it is my favorite of the two parks. We like to start our trip from the south near Jackson and head north into Yellowstone. Jackson is quite possibly my favorite of all towns. Nothing says 'west' like the antler entrances throughout
and the nightly shootouts.
If you head a little outside of town, take your pick of an adventurous river raft trip or many other activities. If you like a little challenge, hiking Snow King and taking the chairlift down will fill your cup.
This appeals to my thrifty side too – taking the lift down is only a couple dollars, as opposed to going both ways.
Speaking of thrifty, Jackson is your last chance to stock up on groceries before heading into the parks, so we try to stock up on a week to 10 days worth of groceries, so we don't have to buy food from the expensive shops in the parks. In order to spend a day in town, we stay at Gros Ventre Campground, which is on the south end of the park near Moose.
Since it's kind of on the outskirts of the park, it is easy to get a site at the non-reservable campground before heading into the heart of the park.
We have been fortunate enough to see nesting baby owls
and moose in the campground.
From the Jackson area, we head north through the park to Colter Bay. We love staying at Colter Bay because it is a large campground and there are so many options there. It's on the lake, so we spend a lot of time swimming,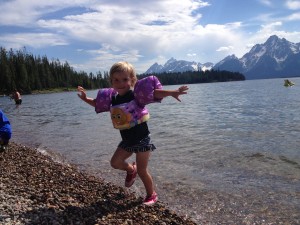 throwing rocks,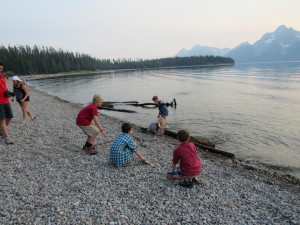 and watching the sunset behind one of the most beautiful mountain ranges in America.
As opposed to the aged, rounded peaks in Colorado, the Grand Tetons are sharp, jagged, and covered in snow.
There is a visitor center, gift shops, laundry, horse stable,
and several restaurants, so if the weather gets bad, we always have somewhere to hang out. The hiking trails around there are flat and easy, perfect for kids or a nice run.
Colter Bay is also non-reservable, but we have never had trouble getting a site when we make it a point to arrive late morning. Campsites are reasonably priced at $22/night.
The Colter Bay RV Park does take reservations and offers electric sites, but we have never wanted to fork over the $70/night to stay there. One of the most popular campgrounds in the park is Jenny Lake, but campers and popups are not allowed, so we have not been there in years.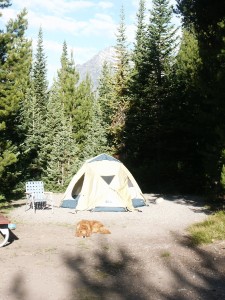 Other campgrounds in the park include Signal Mountain, Lizard Creek, and Headwaters Campground. There are also several wonderful lodging options in the Tetons including cabins at Colter Bay, Jackson Lake, Jenny Lake, and Signal Mountain Lodges, as well as several others. I especially love the view from awe-inspiring Jenny Lake Lodge.
While there are many, our favorite hike in the Tetons is Hidden Falls from the Jenny Lake Trailhead. It is about a 5 mile hike roundtrip, generally flat hike along the lake to a pretty impressive waterfall,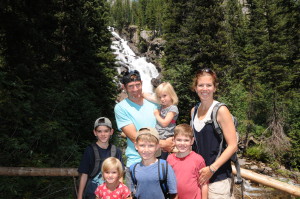 and Inspiration Point if you go a little further.
It's an easy one to do with kids – depending on the time of year, we have picked some great berries along the way.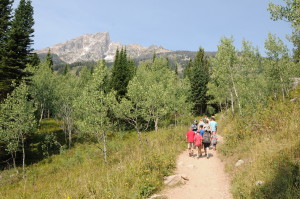 One of the best parts about this hike is that you can take a boat there if you choose. If you take the boat both ways, you shorten the hike to 1 mile roundtrip, or if you hike one way and take the boat the other, your hike ends up being 3 miles. We have taken the boat once, but usually try to deter the group from the temptation.
Adults cost $15 roundtrip and $9 one way, while children are $8 rt and $6 one way. Children under 2 are free, It would cost a small fortune for our family! Once in awhile, we split the group and those wanting to mix in the boat do that, some walk back the short way, and others continue all the way around the lake for the 8 mile loop.
We love to pair this hike with a swim in String or Leigh Lake afterward to cool off.   While we do enjoy swimming in Colter Bay, it is a little colder in the big lake, so String and Leigh Lake's shallow depth allows for them to be a little warmer when the bugs aren't too bad there. There are even a few boulders in the middle to jump off. Many enjoy paddle boarding on these lakes, which we are hoping to try one of these days!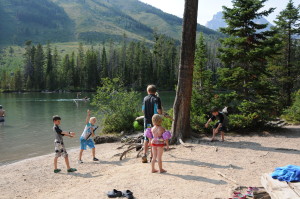 Camping in the Tetons is relaxing, and semi-primitive. There are hundreds of sites in Colter Bay, yet they are large and private, surrounded by trees.
There is spotty phone service in the Tetons, so coming up with plans to meet friends there is always a reminder of how complicated it was in the 'old days.' We usually set a day and time to meet at the visitor center, be there or be square! If you really need service, we have been able to get wifi by the laundry center or restaurants, and cell service if we drive south about 10 miles outside of Colter Bay. While some may consider the Tetons to be busy, in this stage of our life, we consider the Tetons to be our "off the grid." No electric, no phones, no disruption to the great outdoors, yet we are fortunate to have flush toilets (our kids wouldn't have it any other way) and cold running water for hand washing… They even have showers if you choose to pay for one! The only downside in our books is what we call the 'dish toilet.'
Of course, you ask what is this?! Grizzlies frequent the Tetons, so there are bear boxes on each site to store all food and toiletries, and dishwater should not be disposed of on the ground.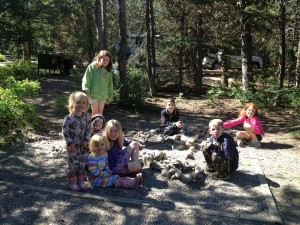 The dish toilets are provided for you to dump and flush your used dish water – enjoy 😉 At this point in our travels, we miss the provided dish sinks with hot water and dish soap provided at SMR, one of the many reasons we like to ease ourselves into the national park campgrounds by stopping at Snow Mountain on the way!
However, we love spending summers enjoying the wonders of our national parks, regardless of the facilities or lack thereof. Nothing compares to the grandeur of the Grand Tetons. As we get ready to leave the Tetons, the excitement continues as we head into Yellowstone on each visit. Stay tuned…