After spending a wonderful evening with the M family on our first night in Colorado,
we looked forward to all the fun we could fit in for three more days on the Front Range.  As hard as we try to keep some semblance of Central time and reasonable bedtimes, the light just doesn't seem to dim and it's 10pm before we know it!  There is always more fun to be had, and the goodbyes and goodnights are difficult.  Even though the Boulder County Fairground Campground is more like a parking lot, and the inmates seemed to be cleaning the bathroom every time we woke up, it served as a great basecamp for us.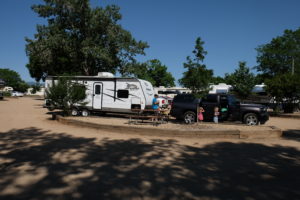 We were thankful to be right in the center of all the activities we had planned for the next few days.  Every morning started with a run around our old stomping ground for different groups of the Hoffpack.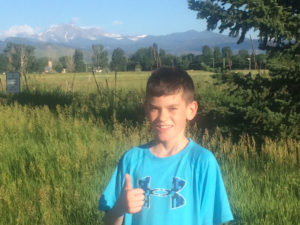 We spent Tuesday with the Van Alstyne family,
visiting and feeding their new pets,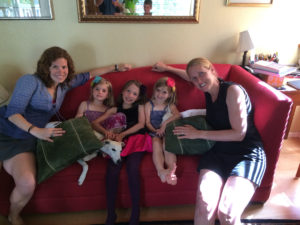 walking the dogs and biking to the park,
and then spending a relaxing day at their pool after travelling. 
It was so cool to be greeted by a fabulous family welcome sign for us on their driveway. 
Suzi was such a wonderful host, helping me with some back exercises to get myself healthy, and even treated us to a wonderful lunch and dinner before we headed off to meet Kyle at Chataqua in Boulder.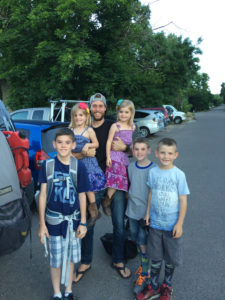 Thankfully, we will get to spend more time with them when they come up to Snow Mountain to spend another week and a half with us!
Wednesday morning was spent driving into the mountains to see the flood damage and running into a mama moose and her baby.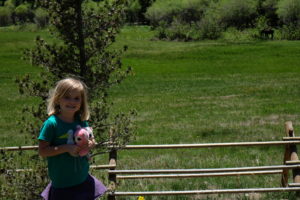 In the afternoon, we visited one of Chuck's former students, Allie, at Pearl Street in Boulder.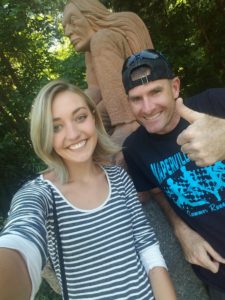 The kids loved playing in the water,
seeing the street performers,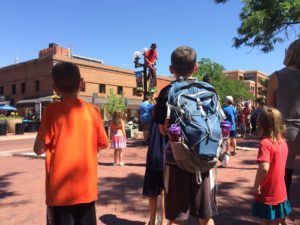 cruising the creek to a little island,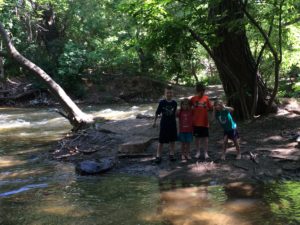 and checking out the farmer's market. 
Dinner in the park was just what we needed before heading to the Grooters house for a giant trampoline jump fest, and hike.
Thursday came too quickly, but Chuck couldn't wait to meet up with an old college friend and his kids for a nice 6 mile run,
and I was pumped to spend the day climbing with my old boss, Chris. 
Just as we pulled into Boulder, Ellie threw up all over the car, and we weren't quite sure what to do.  We were pretty sure she had altitude sickness (something we have managed to bypass the last few years, but didn't get so lucky this time), and knew the high mid-90 temperatures were not going to help the situation.  Thankfully, we went up Boulder Canyon to where the temps in the mid 80s felt so much better. 
Chuck parked Ellie under a tree along the rock wall, with her car seat, blanket, and pot to recover.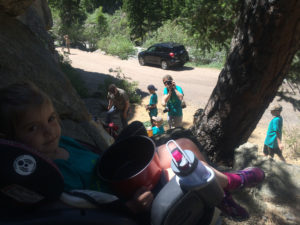 Kids never cease to amaze me – within the first couple hours, she was back to herself and begging to follow her siblings up the climb!  Ethan and Braden scooted up the first climb like it was nothing,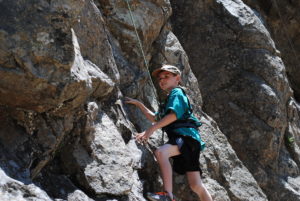 and Ethan made the second route look easy, although the 5.9 climb was quite impressive, especially for someone who had never climbed outdoors.  Chris quickly created kid-sized full body harnesses out of 20 feet of tubular webbing that we had picked up the day before.  Gav and the girls got quite the thrill out of getting up on the rocks.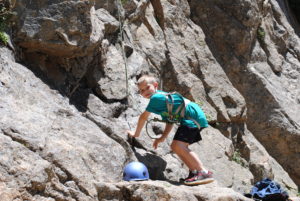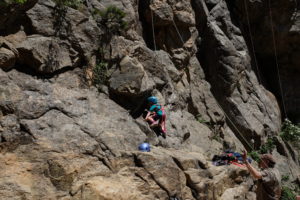 We finished off our climb with Chris belaying Chuck and me up the first route.  I think motherhood did something to me – as fearless as I think I was in the past, climbing the 100 foot route sure made me weak in the knees this time!  As if climbing wasn't enough, Chris offered to zipline the boys over Boulder Creek (which is more like a raging river).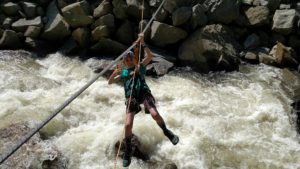 It was so much fun!  Since we hadn't gotten to see the rest of the Hill gang, we were invited back to their house for a barbeque. 
Colt and Lauren showed the kids their storm chasing videos and somewhere along the way, we discovered that Chuck's friend Tim lived right down the street.  Of course, we had to pay a visit to them too. 
As quickly as our time in Boulder seemed to fly by, we are so thankful for all the visits with friends from afar.  We were able to connect with 25 awesome people, and are looking forward to spending time with all our Illinois friends at Snow Mountain Ranch!