We have been busy the last week and a half at Snow Mountain with our second group of visitors. Every time we return to SMR, it seems that we have more to do and less time to do it. Plus, we love just hanging around the campsite with our camping friends who are now regulars 😉
Aside from reworking the geocaching program and spending time with the sled dogs, we have played hard with the VanAlstyne, Beintum, and M families!

After relaxing for one short afternoon,
the Van Alstynes came in the day our first group left and we moved across the campground from near the yurts to a perfect party village site next to the grills and bathroom.
All the kids learned how to do some primitive fishing.
They also made a massive fort!
They were followed shortly by the M family and Beintums.
One time is never enough, so we enjoyed more climbing
while the girls wait (they won't be old enough until next year),
mini golf,
running,
wildlife viewing,
more sled dogs,
roller skating (which the girls are finally catching on and loving it!),
s'mores, zip lining for B (who was injured last time),
walking sticks and visiting the homestead,
and of course, more tubing with our giant group.

We held everybody off from crafts for awhile, and eventually went in for a couple days of painting their latest creations.
The "Icy Bike" even made an appearance in the craft shop for free freeze pops.
Gav and I participated in one of the most unique activities, a human hungry, hungry hippos game,
and Braden enjoyed trying soccer golf after we lost our own soccer ball down the mountain.
There has been a lot of rain this last week, so we are loving our nice big camper to stay warm and dry…
And for having movie and ice cream socials with all the kiddos.
Rain gave us time to play games
and obsessively finish a 1000 piece puzzle.
And lots of rain means… You guessed it, more rainbows!
We are getting used to using public restrooms and showers once again.

One of our all time favorite activities is spending time with the M family on their boat,
and both Gav and E jumped in for a new challenge.
Crazy tubing always follows.
The M family was so welcoming to the other two families we had with us, and they spent one of the days on the boat giving everybody turns in shifts, while others enjoyed the beach.
We always seem to miss the Fourth of July festivities in Grandby, but we are so thankful we stuck around this year.  The Granby Rodeo
with the whole crew was a blast,
followed by some super cool fireworks.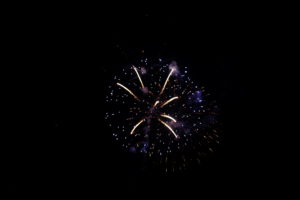 We lived it up on the 4th, and loved the super cool Granby parade,
SMR snow cones,
games,
and festivities,
and a grand celebration for Rick's birthday in Grand Lake with their neighborhood friends,
followed by more fireworks.
Departing on the 5th was difficult after all the great fun!  It seriously breaks our hearts every time we leave Colorado, and we already miss SMR,
but thankfully we were so fortunate to win this 2 night cabin stay to come back again soon!
We are looking forward to our new adventures in the wilds of our favorite national parks!