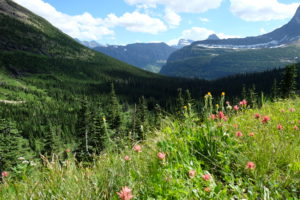 After our reservations at Fish Creek and St. Mary's (the only two campgrounds that took reservations the last time we were there), we were planning to head south a bit to Two Medicine, a beautiful little section of Glacier, off the beaten path.  However, when we heard our traveling friends, the Beintums, would be returning through Glacier, they told us they would surely join us (increasing our total to 19 days on the road with us this summer) if we went to Many Glacier.  I'm pretty sure they would have joined us regardless, but going north to Many Glacier (travel dates 7/18-7/22) also made more sense for us since we would be heading north into Canada anyway.
There was only one problem… despite the fact that Many Glacier is not along the main route, Going to the Sun Road… it is the most difficult place to get a campsite.  This place is blissfully beautiful, and everybody knows it, so campsites often fill by 6am.  To top it off, we were unaware that this was the first year reservations were accepted in half of the campground, blocking up more options.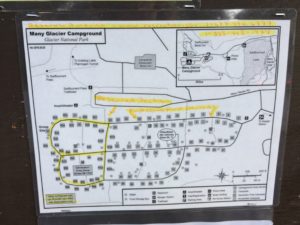 People camp out in their cars waiting for campers to check out… and some stalk current campers, hoping to simply slip their cards right behind them as they plan to depart.  We are more of the reservation type, so none of this sounded appealing to us, but we decided to give it a try a day before our reservation at St Mary ended.  If we were able to get a campsite, we would check out early and head over to paradise.
Ethan and I woke early that morning and headed over to Many Glacier's campsite by 6am.  The views in the morning are sooo majestic there!
There were already cars circling the campground in hopes of snagging a site.  I had stopped in at the ranger station the day before when we finished our hike over Piegan Pass and got our junior ranger badges,
and was informed that there really was no official system in place, so this scene really didn't give me much hope.  I had absolutely no interest in fighting over a site.  My buddy and I decided to walk the campground so we could strike up a conversation with anyone who looked like they might be checking out.  It seemed that either nobody was awake yet, or sites had been claimed prior to this morning.  We were about to give up when we decided to talk to a couple campers headed out for a hike (but not checking out).  As we chatted, a lady across the way walked over from the picnic table where she was cooking breakfast and informed us the site she was cooking on was open.  What?!  Everyone was passing right by because she looked like she was staying there, but she was simply cooking her breakfast there so she didn't wake the others in the hiker/biker site.  Score!!! Ethan and I couldn't believe our luck, tagged our post,
blocked off the path with our lawn chairs,
talked to the ranger, and headed back to St Mary's to hurriedly wake the rest of the fam and scoot over to our amazing site in Many Glacier!  To our surprise, St Mary's was even able to credit us back for the extra night.  We hurriedly packed up, and stopped at the visitor center to use the wifi and inform everyone we would have no service for the next 5 days.  This would increase our total days without electric to 17 nights- thank goodness for solar panels!
On the way in to Many Glacier, we were greeted by a big bear running across the road just past the park entrance.
Many have nicknamed this area "Many Bears," as it seems they are everywhere you turn.  Not only were we in the premier part of the park, but our campsite was ridiculously perfect, surrounded by trees, rocks, mountain smells, and perfect spots for playing and relaxing in the hammock.  Heaven.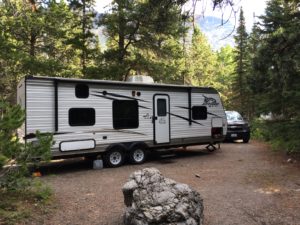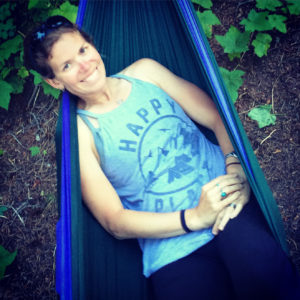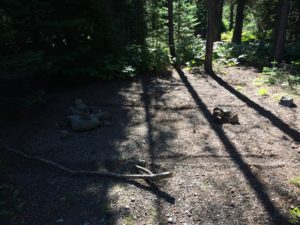 Even the weather was on our side!
With the Many Glacier Lodge going through renovations, our favorite spot was less crowded than usual too.  We stayed in our campsite through breakfast and lunch, something we hadn't done all vacation.  After lunch, we decided to take a short 2 mile hike to Red Rock Falls along the Swift Current Trail.
It was relaxing and short in comparison to our last few days on the trail, and we were so impressed when we met the coolest paraplegic lawyer along the trail on his wheelchair bike.  There was ZERO complaining after hearing him share a little of his story, but we were sadly unimpressed with the falls after all the amazing views we had seen over the last few days.
The kids enjoyed playing in the lake, especially Ethan, who loved all the snakes swimming near the shore.
A grizzly bear walked along the far side of the lake, giving some of the vacationers a scare, as we had to walk near it's location on the way back.
Just before we returned to the campsite, we enjoyed watching a big moose swim in the lake.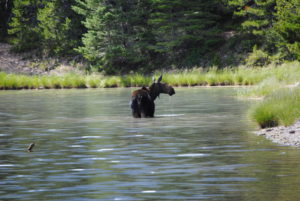 Most evenings, including this one, were spent enjoying the infamous Swiftcurrent Lake while Chuck and Ethan went for runs.  That kid was able to log more than 200 running miles (and many more hiking miles), many at altitude, while in the Rockies!
While running back to the campsite,
they ran into this guy two nights in a row.
Chuck had the bear spray out with the safety off as hikers on the other side of the bridge forced the bear into a run, right towards him and E.
The next day, we decided to attempt bringing everyone on a 12 mile hike along one of my favorite trails, to Iceberg Lake.  Chuck had his doubts, but I was feeling bad leaving him back in the campsite while the boys and I explored paradise.  The girls said they were ready for a "big girl hike," which it certainly was!  This very trail was the site of several grizzly encounters two years before, when Ethan, Jill, and I met up with a grizzly cub, followed by this big guy.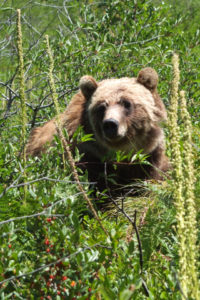 Of course, Chuck ran the trail afterwards and came across this one.
Thankfully, the trail was crowded this year, and we did not run into any bears.  Our Hoffpack shirts were a big hit, and truth be told, the best way for us to keep track of 5 little ones on trail.  Along the way, we stopped at the falls for a banana break,
and continued happily down one of my favorite trails.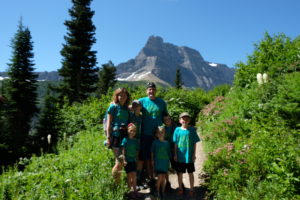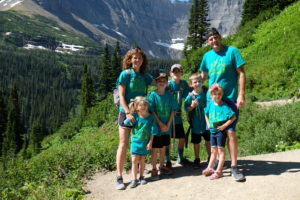 The whole way there, you can see the dramatic bowl you will climb down into.
I had visions of taking a picture of all of us on an iceberg, similar to this one of Jill and I,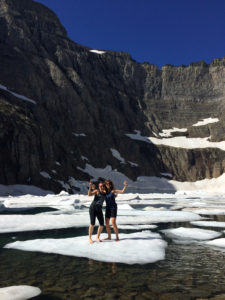 but to my utter dismay, most of the lake was melted.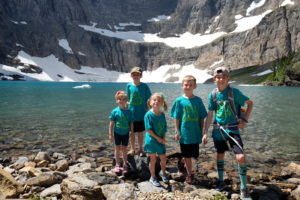 We ate a quick lunch by the stream,
followed by a few of us doing a balancing act on this small iceberg
before heading back.
Laney, Gavin, Braden, and Chuck basically ran back, and Ethan, Ellie, and I had to really move to catch them.
The girls were unfazed by the 12 mile hike, and the skittles did wonders along the way.  The boys and I decided to extend the hike to Ptarmigan Tunnel so we wouldn't have to backtrack down the same trail the next day, which added an additional 5 miles.  We said our goodbyes to Chuck and the girls.
The switchbacks going up to the tunnel are for real, and we were surprised by all the hikers turning back before their destination.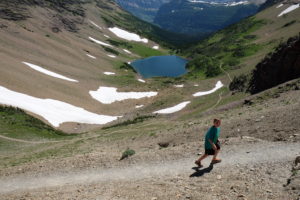 Everyone doubted the coolness factor of the tunnel, but the boys were pleasantly surprised by the amazing manmade feature (I had hiked the tunnel back in college, and couldn't wait to come back).
To top it off, the view from the other side is unreal and totally different than the side we had just hiked.
It is incredibly exciting to watch our boys (and girls) adopt our love of hiking, and this day tipped the scale.
Still no bears, but we found plenty of reminders that the grizzlies were alive and well.
The boys were begging to hike the 20 mile Dawson Pass hike out of Two Medicine, but having other plans the next day with the Beintums coming in, to our dismay, we had to inform them there would be no big hike the next day.  They can now do anything that we can, and we have no limit on what we can do.  What an exciting realization – the future looks so bright.
Many Glacier has no cell service, so we were completely off the grid, but happily discovered wifi at the hotel.  The Beintums would be coming in the next day, and we were hoping to let them know whether we were able to snag a site for them too.  I had staked it out the morning before at 6am, and it was worse than the day  we had come in.  Here are a few pictures of the line of cars waiting for a site.  I woke early the next morning and started walking the campground once again.  I found a group of campers awake and preparing to leave, so I asked if I could slide a card behind theirs, and they happily obliged.  There were already cars lined up when I went down to drop their envelope off,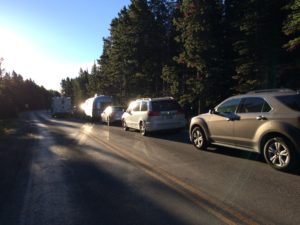 but the ranger was stopping people from driving around on this day, so I lucked out.  Conflict avoided…and after the experience, I will never try to get a non-reserved site at Many Glacier again! We parked our car in the new site to hold it for our returning friends.  We spent the afternoon celebrating and catching up on the last week of travels for us and for them in Seattle, followed by a short 1 mile, 700 ft gain hike to Apikuni Falls.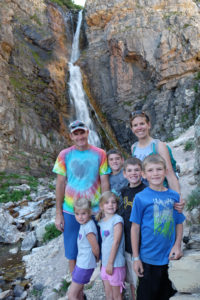 The girls were petrified of the cold spray of water!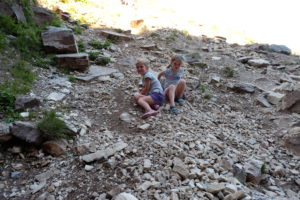 The crew was soooo happy to be back together.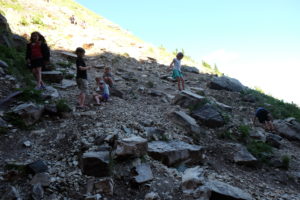 After dinner,
we took a hike to the moose spot and the trail around the lake,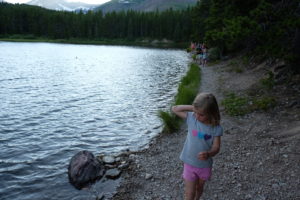 looking for wildlife, with no luck (unsure if it was all the talking or just bad [or good] luck, we were beginning to agree that the Beintums may never see a bear ;)).
Our last full day in the park was spent hiking to Grinnell Glacier, yet another amazing Many Glacier trail.  The twelve mile hike once again proved no challenge to our amazing crew of little hikers.
Having to cross a waterfall along the trail actually proved to be quite fun for most.
One of the highlights was filtering some of the cold glacial water to drink.  Mmmmmmm.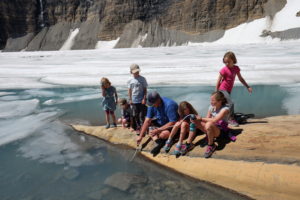 The kids were fascinated by the snowy ice packs.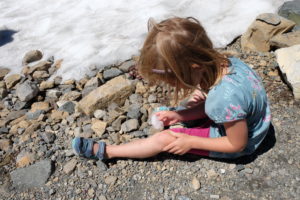 The views of gorgeous Grinnell Lake and Lake Josephine from above was pretty amazing too.
The girls loved using the Beintums cooling towels, claiming they would miss their towels when we separated the next day.
This bighorn sheep watched us from above as we returned that day.
We loved relaxing in the campsites with our camping buddies after a long hike
and of course enjoyed some delicious huckleberry frozen yogurt from the camp store.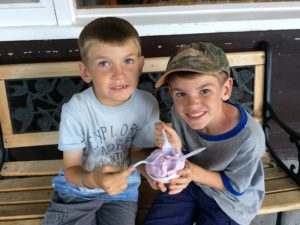 The next day, after a quick run and some moose sightings,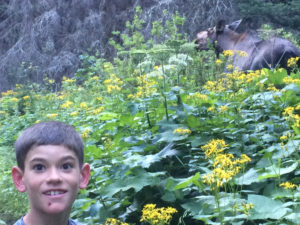 we were sooooo sad to leave Glacier and the Beintums,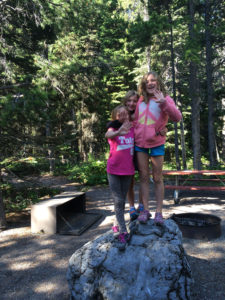 but Canada was waiting…  On the way out, with the Beintums on our tail, we were rewarded with yet more grizzly bears along the road.
So long Glacier, til next year!