As I reluctantly sit with the most awful neck and back pain again, thoughts of what I want to do or should be doing speed through my head.  Sometimes, we are forced to slow things down, as much as we don't want to.  It's frustrating that something as simple as cutting an onion for tonight's dinner instigates such agonizing pain.  I recall that just days before, I was racing along the road of life, squeezing every moment out of what life has to offer, taking for granted how finely tuned a body must be to function properly.  Something as simple as a slip of a vertabra can change everything.  Perhaps it happens to remind us how lucky we are, to slow things down, and teach us appreciation for the world around us.
Everything can change on a dime.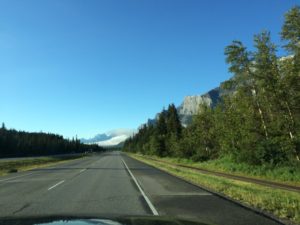 This year, despite the lack of beauty after leaving the most magestic of mountains, I vowed to appreciate our drive across the beautiful country we live in.  One moment, we were at the most gorgeous spot we could imagine, only to be thrown into a race across the most barren parts of our continent.  Our return from the West involved a 24 hour, 1500 mile drive from Banff to Houghton, MI… something that could take us a couple days, or possibly weeks if our luck ran dry like last year (although we still only allotted 4 days, feeling optimistic with our new car and camper).
Leaving the mountains is hard on us every year… we love seeing everything and everyone in the most beautiful settings possible.  This year, the luxury of a new camper left us not missing much from home.  The only things we looked forward to were getting back to the familiarity of US currency and speed limits,
cell reception, and visiting family members in the Upper Peninsula of Michigan before heading home to our other world.  So…. the day we left Banff, we took it all in as we raced across Canada as fast as we could, in fear that the border may close before we made it to our crossing.  We laughed at some of the coolest and funniest things we saw,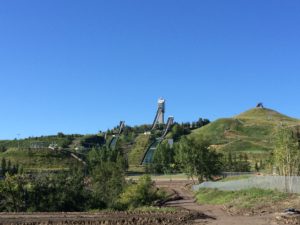 and cried, as we struggled with the many hours in the car (well, some of us did).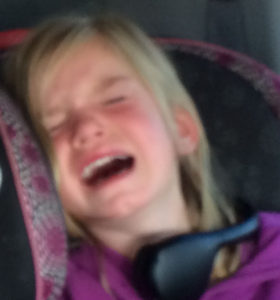 We finally made it to our first destination, a Walmart in Minot, North Dakota around 10pm, after the hour time change.  Chuck was in culture shock, and insisted on heading over to the Buffalo Wild Wings across the parking lot.  To our surprise, the place was packed for the evening fight.  We surely looked like the craziest of parents for bringing our 5 kiddos in for the big fight.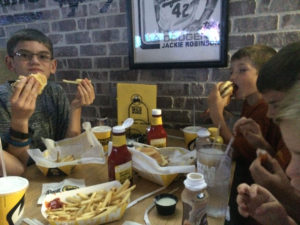 We slept hard in the Walmart lot that night (free "camping" – one of the perks of having a hard sided camper), but rose early as we continued our race across North Dakota and Minnesota.  We learned that some travelling friends we had met a few years prior would be passing through Duluth that same day, and managed to meet them at Park Point Beach in Duluth for a little swim.  Once again, after hearing more about their past year, we were reminded how much can change in a short time, but it was so nice to catch up, and we were so thankful for this time together, with all of us happy and well!
When we left, we realized we were running on 'E' and decided to stop for the night, but not until after we cashed in our free coupons at the local Culver's, a sure sign we were back in the Midwest.  The kids couldn't have been happier!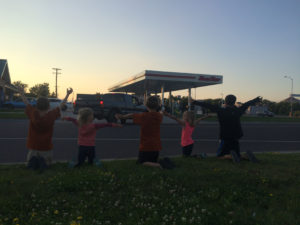 We slept in another Walmart parking lot in Superior before making the trek across the UP to my alma mater, MTU, in Houghton, Michigan the next day.  We were lucky enough to catch a fellow alum and his family on their way out.  We love re-connecting with friends like that!
Amazingly, in just three days, we flew across the entire country back to what felt like our homeland, while still 8 hours from home.  Everything had changed in those few days, and as we were to return home very shortly, everything would change once again… a reminder to all to appreciate every moment we have because 'everything changes on a dime.'