It's been awhile since we posted, and honestly, it's been hard not only getting back into the swing of things back at home, but also to see the destruction running through many of the places we visited over the summer.  We feel fortunate to have been able to see so much shortly before the fires changed these landscapes forever.. and almost a little guilty.   If you know you want to do something, don't want… that perfect time may never come.
As our big group headed back to the Midwest, our family continued north to Larrabee State Park, just south of Bellingham, Washington (travel dates 7/17-7/19/17).  It was actually rather comical the first day we arrived in our campsite.  The pull-through sites were nice, but not very private.  It wasn't a big deal since we didn't plan on spending much time in the site anyway.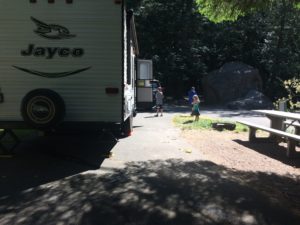 We immediately wanted to explore more of the San Juan Island coast that we had driven along to get there.  We dropped our camper and travelled up and down the coast, only to discover it was mostly privately owned.  There is also always a bit of culture shock coming into a big town like Bellingham after being hunkered down in the woods for days with no service, as we gawk at restaurants at stores like REI or Costco.  Gavin loved picking up a nicer sleeping bag like his siblings since his old one was falling apart.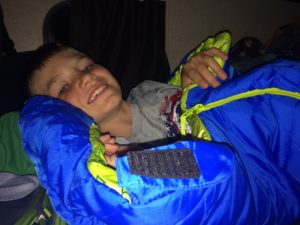 Eventually, back at our campsite, we discovered the perfect little beach.  Despite all the fabulous hiking in the state park, we couldn't seem to rip our kids away from this picturesque place.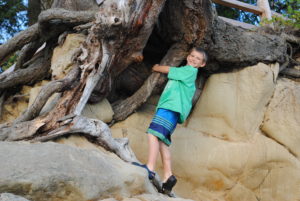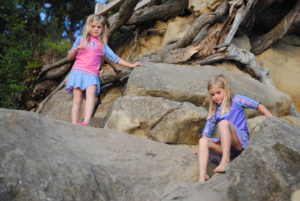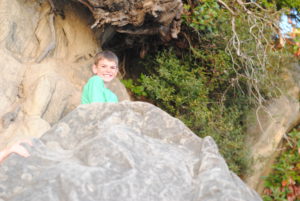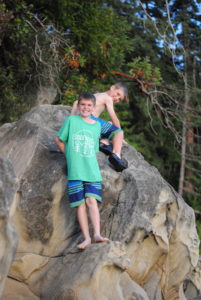 The kids had so much fun looking for creatures.  It was tough getting a picture of them, but the kids got a huge kick out of the clear jellyfish in the shallow waters.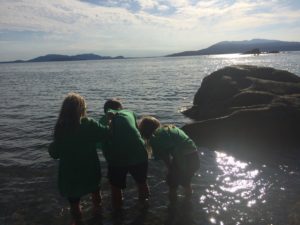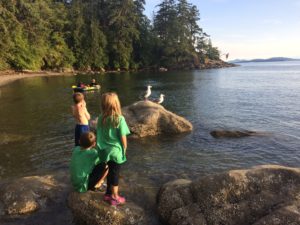 Here's Braden begging to spend the evening in this one spot.
Eventually, I had to call Chuck and Ethan back from the campsite with swim suits, as they had left to fit in a run.  As the sun set, the less anyone wanted to leave.  It was captivating.
The island the kids spent so much time on before the tide came in went completely under water right before ours eyes.
Skipping rocks became the night past time.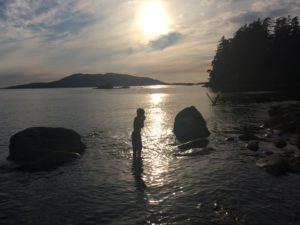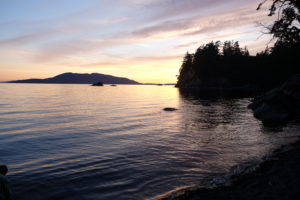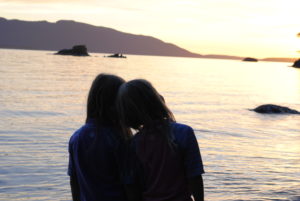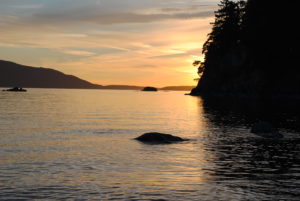 Crab season had just begun, and the kids got a kick out of checking out everyone's buckets.
Gavin actually got pinched by one he couldn't resist picking up.  A dad and his two kids had set up camp nearby, and Chuck immediately started asking questions.  The family invited us to stay for a taste of their crab catch… a once in a lifetime opportunity.   There is nothing like fresh Dungeness crab on the beach, right after it was caught.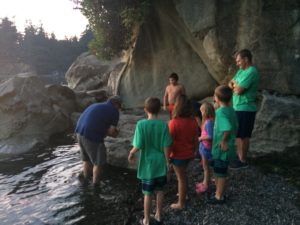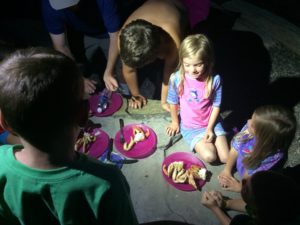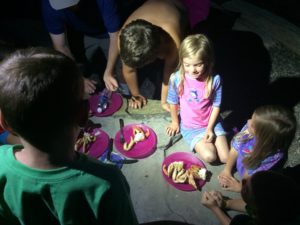 Since we only had a couple days to explore this area, we thought it was the perfect place to set up camp and head north for a day trip into Vancouver, British Columbia.  The last time we had been here was 16 years ago when we took the Alaskan Marine Highway from Alaska to Bellingham.  We put our passports to good use once again.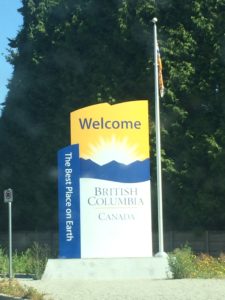 Once again, we went into culture shock as we headed through Vancouver.  The electric bus system was really impressive.
Sixteen years ago, we had visions of one day bringing our kids to Stanley Island in Vancouver, a perfect park for kids and adults alike.  There is so much to do there!  The kids enjoyed studying and picking out their favorite totem poles.
There is no shortage of sightseeing here, and the giant freight boats were so impressive.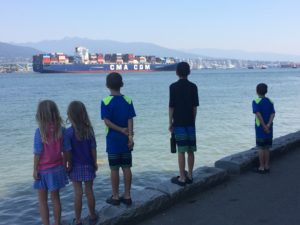 We thought the kids would love being at the splash pad there, but they surprised us by telling us it was too crowded.  I guess that shouldn't surprise as since we had been out on our own for so long now.
They never cease to amaze us.  Here is the little bulldozer NONE of our kids could get enough of.  Really?!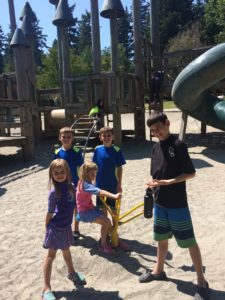 Chuck's inner kid was brought out by riding this little train through the rainforests of Stanley Island.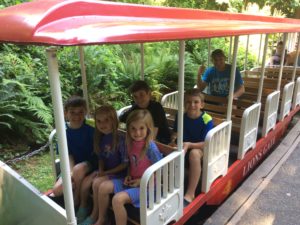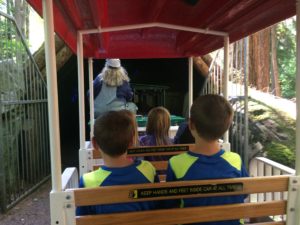 Bikes would have been a great addition to get around, but we enjoyed the slower pace of walking through the rose gardens and all the walking trails.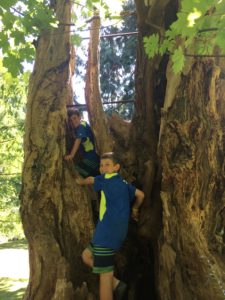 We didn't make it into the aquarium (mainly due to cost), but we got a huge kick out of all the Chinese caricature artists bartering to draw all our kids near the entrance.
On the way out, we stumbled on the most amazing pool on the island.  It was less than $3 a person to stay here, and we kind of wish we had spent more of the day here, but there is always next time.  The water was much warmer than swimming in the ocean beaches of Stanley Island, but with the same view.  What an amazing place!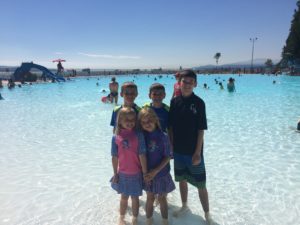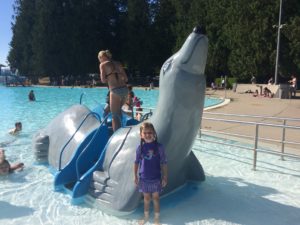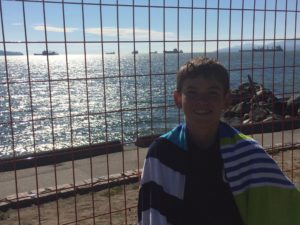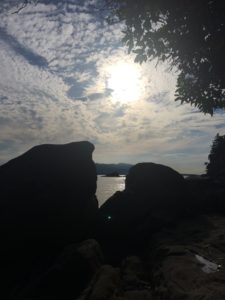 Back at Larrabee, we had to make one more trip over to the beach for sunset, but despite the persistent attempts of our kids, we quickly discovered that the tide was way up, and we couldn't make it around to our favorite spot anymore.  Once again, we did not have enough time.  We will be back Larrabee!  Thanks for a great stay!