The drive from Arches to Bryce was much longer than we remembered, partially because it was more than 5 hours, and partially because the drive was windy, the roads were difficult, and some stressful hitch moments along the way. 
The kids all traveled with Jill, Ben, and Kimmy and made a fun stop at Capital Reef National Park on the way.
We had a bit of culture shock when we arrived at Ruby's Campground after staying in the primitive Arches Devils Garden Campground.  We had electric and water at Ruby's, in addition to a beautiful pool, hot tub, showers, shuttle trolley, and more. 
We drove into Bryce to watch a spectacular sunset while chuck and the kids had fun taking an extended swim.  
The next day, we did a figure 8 hike on the Navajo Loop,…
The first part of the trail was spectacular.
One of the loops was also a horse trail, which was highly over-rated in our opinion.
As we finished up the hike, the wind kicked up, and we were happy to take a little break in the campground for the afternoon.  Nothing is like those Utah winds!  We enjoyed one of our few fires for this part of the trip while we cooked pie iron pizzas.  We were loving the cool Bryce temperatures after the sweltering temps in Arches!
We headed back into the park for yet another amazing sunset.   I was excited to get some great shots with our new rumpl blanket 🙂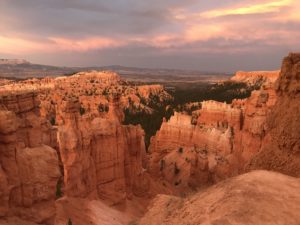 We ended the evening ready to head off to Zion with 28 of our favorite friends and family!
Travel dates: 6/14-6/16
Additional photo credits: Jill Heikkila and Kim Hoff