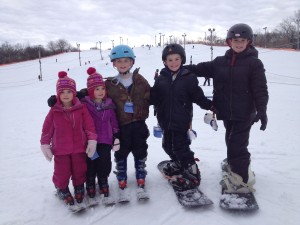 We spent years living down the street from Four Lakes Ski Area in Lisle, noses turned up at the small hill with the tow ropes. You see, I learned how to snowboard in college in the Upper Peninsula of Michigan, boarding almost every day at MTU owned Mont Ripley.
From there, we moved to Colorado, and had season passes to Breckenridge, Keystone, and A-Basin.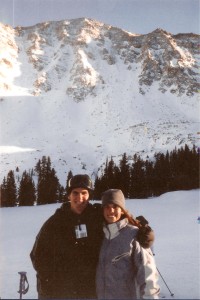 Moving back to Illinois was all for family, so we leave part of our hearts in the mountains every time we visit.
Last year, we gave Four Lakes a try with the kids and loved it. The small ski area is on Groupon and Living Social often, so it was a cheap and easy way to let the boys try it out without a big investment timewise or financially. Since it is only 1/2 hour from home, it was a doable way to ski, leaving the girls with Grandma for the day and spend some time with friends.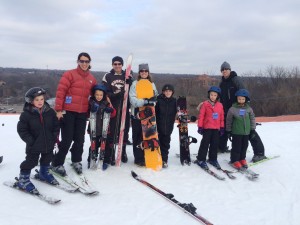 We went a couple times with the older kids before heading there with all 5 kids after a successful winter trip to Colorado skiing with all 5 in 2015.
Yes, the tow ropes are a bit of a pain, but it's a perfect hill for the kids to learn on… and they love it! Braden, who has gone back and forth between skiing and using his snowboard, wanted to share his first blog post with you all about his experience this past weekend 🙂
I was so happy to go snowboarding when I heard the news. It was just what I wanted to do. Best of all, the Beintums were coming with us.  They are a family we have known for a long time.
As my mom packed our stuff, I went right to the car. Once we were loaded up, we left for Four Lakes and I watched the Lorax on the way there with my brothers Gavin and Ethan, who were coming too. It is so fun to go with them too.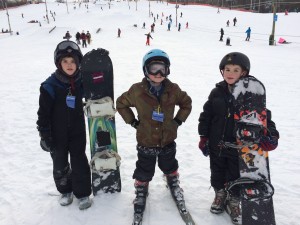 When we got there, we got out of the car and went to get our tickets. After that, we got all our stuff on, I hooked on my snowboard and went snowboarding. When I got there, the Beintums were already there. I started at the little hill first. After I did the small hill a few times, I felt very bad. I could not go down even one time well with the snowboard, even though I had done it last year. I did the big hill a few times, but the snow was very sticky and I was doing so bad at snowboarding. I did one more time before lunch, and I almost quit. After lunch, I went right down the hill to the bottom, smiling all the way. I did the turns well, and everything good. When we were done, I had so much fun and I learned never to give up!
I was so proud of Braden for working through his discouragement and seeing that sometimes things don't come easily, but that they are worth the effort. In addition, I was so happy that he wanted to join in the blog writing to share it with you all!