We are always in such a hurry to zip out west at the beginning of summer, we have found it difficult to get up to Marquette in the Upper Peninsula of Michigan to visit my sister and her family. Besides, she puts a great effort into coming down to Chi-town to visit all of us pretty often.  It is beautiful there, and we especially love camping at the city park during the fall color change. The children's museum is like no other too!
It's been a couple years since our last visit.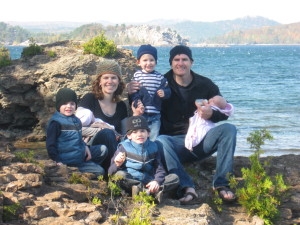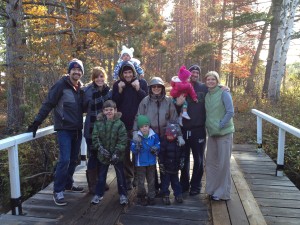 Thanks to her prompting and a long weekend break from school, we landed there for two nights last weekend! My sister takes pride in living in a 'tiny house' with her sweet family, so we are unable to stay with her, but managed to snag a great deal on hotwire (plus an additional discount with our discover card) at the Holiday Inn. We don't stay in hotels very often (we make quite a ruckus when we do and our kids have to sleep in strange places to fit),
but we have found that even with AAA, the hotels cost almost twice as much as hotwire typically. The catch with hotwire is… you don't get to see which hotel it is until after you book it, but we have always been able to do a little research given the amenities and narrow it down to one or two. I get a kick out of booking with hotwire – we enjoy trying to figure out which one it is, and like the surprise when we find out where we will be staying. Our whole family enjoyed soaking up almost 4 hours of swim time in the giant pool over the two days, and had probably the best brunch we have ever had with the Valentine's Day kids eat free deal. Sweet!
We were wishing we could have made it up there Friday night for the start of the 200 mile dog sled race in downtown Marquette, but we couldn't make the 8 hour drive until Saturday. I was able to participate in my dear friend Kim's (bakingforblessing.com) bake and share on Friday, bringing the yummy heart-shaped vanilla bean donuts to my sister's family. Lucy was ecstatic when she opened the box of pink treats. (L also happens to have the sweetest blue eyes ever).
We were even able to see some of the teams come back in on Sunday near the lakefront. They looked so tired, but what an accomplishment!  We even saw two bald eagles by Superior.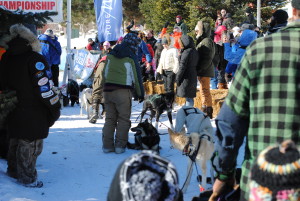 Even with the seven of us and my mom, we were able to fit in the skis and snowboards for a little snow fun, thanks to the front bench seat in the new suburban. We had never been to Marquette Mountain, and it was a treat to leave the girls and Gav (who was under the weather this weekend) back with their cousins for Valentine Date Night skiing with the two older boys.
We snagged the greatest deal! After 4pm, skiing costs $29, with kids under 10 skiing free with an adult ticket, and under 6 free no matter what. Because it was 'date night,' our own tickets were buy one get one free, and they let both boys ski free too. Score! Ethan and Braden had never snowboarded on such a big mountain, so they worked hard to improve the skills! The boys can't wait to explore more of the mountain another time (Due to the cold temps, Ethan looked like a ninja, and Braden got snow-bombed by a snow maker).
My sister's husband has a large family, and as luck had it, they had already planned a get-together and rented out a cabin and the tubing hill in Ishpeming. It was a blast to see M's family and jump in on the fun, even with the frigid northern temps! They even had a lift to get back up, which the kids appreciated after repeatedly hiking up the mountain in Colorado a couple weeks ago.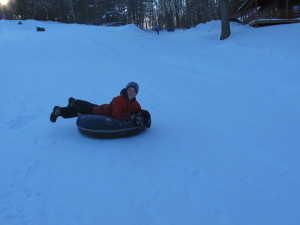 We were surprised so much time has passed since we have seen the 'D' family, but are hoping to see M's family (as well as my sister's) again sooner than later!  Hoping you will have us back… even after spreading our winter germs your way 😉