---
It's been a mild winter in IL, so instead of making the trip down to Florida for a spring 'break' from the cold, we decided to change it up this year. The Pacygas, one of our favorite Boy Scout families, was daring enough to take a little adventure with us down to the Smoky Mountains. We left right after school ended Thursday afternoon and made it 6 hours down to Lexington, Kentucky, where we hotwired a room at the Comfort Suites for a whopping $53. The only traffic we hit was going through Louisville, where the girls proclaimed this bridge the 'light rainbow.'
We loved the nice pool, free breakfast, and getting to see our friend Amy from long ago. We were so grateful she was able to squeeze in time away from work to catch up for a bit.
The drive down to the Smokies was less than 4 hours from there, and we love driving south and watching the leaves sprout as spring begins right before our eyes.
It is such a beautiful drive, and my favorite sights are the green mountains and purple red buds.
We used homeaway.com to find a highly rated and affordable home to share, but had no idea our cabin was going to be high atop what felt like the most treacherous road ever. 'Smoky Mountain Diamond' truly was just that, but it sure did get my adrenaline pumping every time we had to take the 5 mile drive up and past all the houses on stilts that didn't seem legally constructed. Ayyy! Our driveway was equally scary, but lucky for us, we were able to park one car up top and the other on a flat spot half way up. I can't imagine driving that in winter!

Upon arrival, we rejoiced the 70 degree weather and the kids raced around the 3 bedroom cabin, claiming their areas and changing their minds as they saw more. Ultimately, we ended up putting all 4 boys down in the "man cave," complete with king bedroom, bathroom, pullout bed, pool table, hot tub, and pacman arcade game.
The Pacygas claimed the loft with Ellie on the futon, and we stayed in the main floor bedroom, with the girls sleeping on the couch mattress.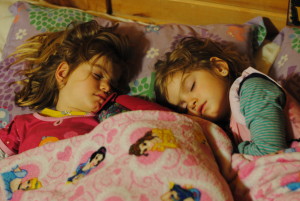 The great room and kitchen combo made for a peaceful adult space to cook and play our favorite game, Ticket to Ride, while the kids played in the man cave.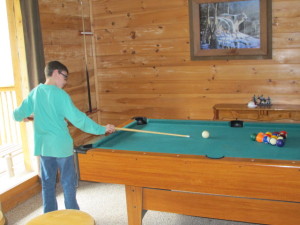 The wraparound porch was great for coloring eggs and cooking the most delicious ribs on Ken's smoker.
The fire pit was great for roasting our Easter egg marshmallows.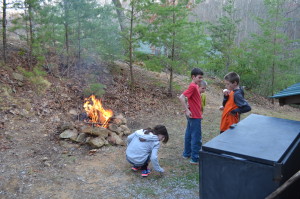 There were also several hard core nightly runs up and down the mountain with the boys.
We spent a beautiful Saturday exploring Smoky Mountain National Park.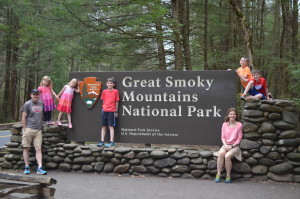 Even though both girls had fevers, we were thankful they did a great job of sightseeing. The drive up to 6600 foot Clingman's Dome is a bit long, and the weather dropped about 20 degrees (we always pack a bag with coats on mountain adventures just for this occasion), but the high altitude rewards are impressive!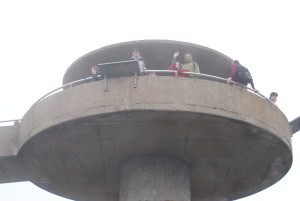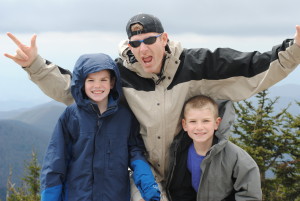 Even in the summer, temps can be cool. Here's a pic from many years ago before children.
It definitely made us appreciate the warm temperatures as we ate lunch at the Chimney Tops picnic area.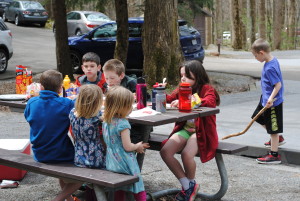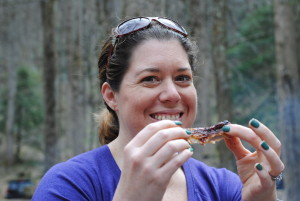 We continued farther down to Laurel Falls.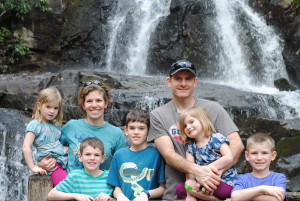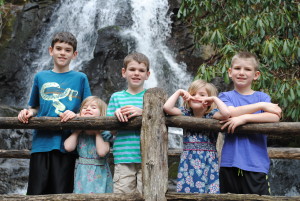 The 2.6 mile round trip hike is easy and rewarding. There is even a paved path if you prefer to push a stroller up with little ones.
From there, we went into Elkmont to fill up our water bottles (water sources are scarce in the park) and check out the historically rich cabins there. It's always so surprising to see the run down shacks and learn that they were once used as affluent summer getaways.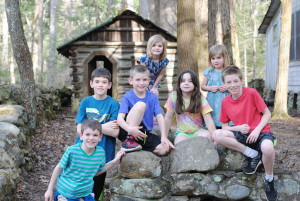 Upon returning to the cabin, we relaxed in our mountain refuge as the boys took a run, followed by Joyelle's delicious lasagna (we split meals and freeze them for the trip down to make for fast, easy, and affordable meals on the road. This trip's meals included bagels, pancakes, Easter eggs, fruit, snacks, granola bars, trail mix, sloppy joes, tacos, lasagna, sandwiches, hot dogs, ribs, and creamy Italian chicken).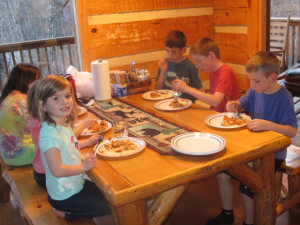 We started Easter Sunday with a fun egg hunt in the cabin.
It would have been fun to do it outside, but we were informed that the bears were bold and hungry 😉 We went back into the park after breakfast and took the long drive along the Little River to Cade's Cove, which is an 11 mile one way loop road
with areas of interest to stop at like the first settlers cabins, churches, cemeteries, and the mill area.
A guide book to read about the stops is available at the visitor center, and the kids got a huge kick out of hearing about how things operated there in the old days. Next time, I would love to bring bikes. We thought it was so interesting that wild hogs have upset the balance in the park so much that they have spent decades trying to eradicate them.
We have seen plenty of bear in the park on other trips, but not this time, despite big efforts to watch for them. After Cade's Cove, we went back up to the cabin to paint eggs, relax, and enjoy our last evening in the cabin.
We were thankful we found a back road around Gatlinburg to our cabin; the traffic in that downtown area can be horrendous. If you're not afraid to spend some money, there are so many things to do in Gatlinburg and Pigeon Forge (such as Dollywood). Our large family, money- saving mentality, and constant travel plans prohibit us from doing that, although we are content to spend our time in the national park instead.
Because our travel plans included a visit to Virginia Beach and Washington DC this time, we were unable to spend another day, but if we had, we would have spent a little time hiking around the Sugarlands Visitor Center,
drove the Roaring Fork loop and hiked the 2.6 mile roundtrip hike to Grotto Falls, and hiked part of our favorite trail- Ramsey Cascades, a trail outside the main entrance, off the beaten path, and away from the rush of visitors.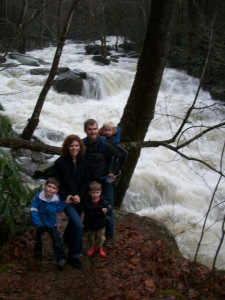 Even the drive back to the trailhead is an adventure and well worth it!

Had we done it over, we would have loved at least one more night in the Smokies. Next time! If we travel back to Illinois from the Smokies, we love stopping in Nashville at Opryland to walk around – what an amazing place!
We are on our way to Virginia Beach to visit Chuck's best man and his awesome wife, both of whom we were fortunate enough to go to high school with. Stay tuned!