The last month has been a whirlwind of exploring our national parks, and along with that comes no cell service, no electric, and a whole lot of time with Mother Nature.  While we are always so sad to leave Snow Mountain and all the comfort it offers to us, we were looking forward to one of our favorite places, Grand Teton National Park.  We were thankful this was the only roadblock this year 😉
Our friends, the Beintums, were sticking with us through both the Tetons and Yellowstone, the kids were ecstatic, and we couldn't wait to soak up the beauty.
Our first stop was Gros Ventre Campground, on the south side of the park.  We love staying there because it is close to Jackson, an awesome town we couldn't wait to enjoy.  In addition, it rarely fills, so an evening arrival still allows for available campsites, unlike the rest of the park.
Our first evening was spent enjoying the view,
playing with the animal toys in the campsite,
cooking one of our favorite meals (pie irons, with scout Ethan as chef),
and adapting to dry camping.  This would be our first of many nights without electric and water and we were anxious to see if the new rig would all work as it was supposed to.  With our old popup, things rarely went as planned, so we were prepared for the worst. 
We were pleasantly surprised when the fridge and full tank of water worked, and we even have hot water now for showers and dish washing.  Our old method of bathing included a cold lake, and dishes were typically done in the "toilet tank."  With a freezer, we can even enjoy ice cream on special occasions! 
It didn't take long to adapt to this plush form of camping!
Two nights in Gros Ventre allowed for one full day in Jackson to sightsee and restock on groceries for the next week and a half in the parks.  After exploring the visitor center,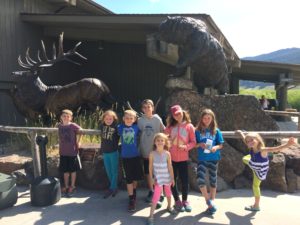 town,
and taking the traditional antler walkway pictures,
we headed off to find lunch when we came across the coolest rock climbing park we have ever seen,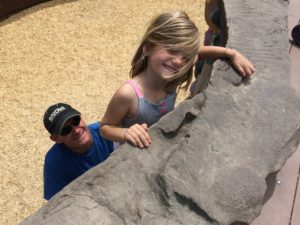 which resulted in hours of play before we returned to town for the evening shootout.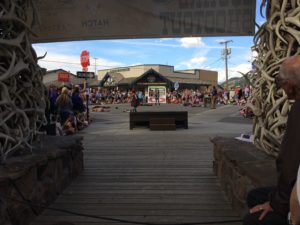 As luck would have it, the local firehouse was having their annual open house, complete with a free barbeque and ice cream for all!  I think we enjoyed it as much as the kids did.
From Gros Ventre, we headed straight to one of my favorite campgrounds of all, Colter Bay.  While Colter Bay does have a reservable trailer park, we always opt for the $25 non-reservable campground as opposed to the $60 trailer park.  The smell of pines fills the sites, and it is within walking distance to one of the most awe-inspiring beaches in our country,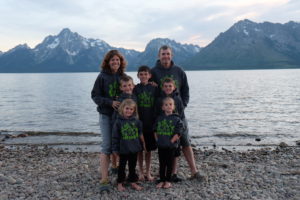 with some of the best skipping and building rocks.
 I always wish we had more time to spend in Colter Bay, and especially this year, with only 2 nights to spare.  Our first day was spent walking around the bay,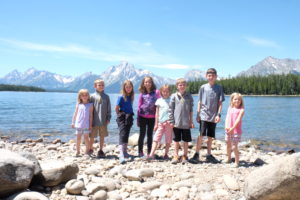 checking out the neighborhood bald eagle,
taking a guided hike to Swan Lake,
working on our junior ranger books,
and loving our new hammock! 
The girls loved picking out their souvenir twin wolf pups.
Even though the Hidden Falls trail was closed this year for maintenance,
we decided to shuttle one car over to String Lake and hike Jenny Lake
around to Inspiration Point
and on to String Lake,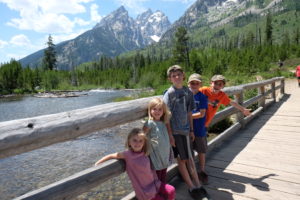 our favorite swimming lake in the park. 
All 8 kids did an amazing job hiking over 6 miles with no complaints, and the older kids earned the title the "super six." 
As the kids love to jump on every rock, they may have hiked double our 6 miles.
This was our longest hike this summer with all the kids, and it gave us all hope for trails to come. 
String Lake was warm and we had our own private swimming area to relax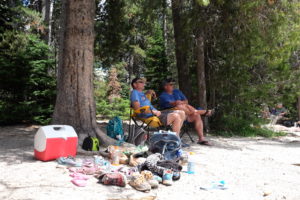 and play.
I wanted to buy a paddle board for this trip, but Ethan made do without it!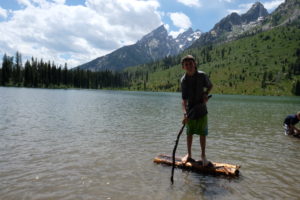 While we had no service in the parks (which is difficult but refreshing at the same time), the restaurant has wifi, so we were able to check in quickly for a weather report… we knew we had one day to enjoy "summer" in Yellowstone before the weather took a turn for the worse.  Stay tuned for our quick adventure in Yellowstone!