The pain of leaving Glacier was only softened by the fact that we were returning to one of the most majestic places we have ever  seen, Banff and Jasper National Parks (travel dates 7/22-7/30)  15 years prior on our drive to Alaska.  As we left Many Glacier, we were excited about connecting with the world again from our phones, but quickly learned that AT&T does not service Canada, rendering our phones useless still, aside from quick stops at visitor or welcome centers to recalibrate directions to Banff… because of course we forgot our Canadian maps at home!
We found that it was so easy to get through customs into Canada…it surprised us that nobody even looked twice at our camper.
All seven passports were finally put to good use!
We switched our settings over to Celcius and kilometers per hour to make sure we weren't speeding, which took some getting used to!  It surprised us that just a couple hours from the American border, so much had changed.  We had called our credit card companies ahead of time, and planned to use our Discover card since there were no foreign transaction fees, only to discover that Discover is not accepted in Canada.  For the most part, we used our debit card and cash to avoid higher fees on our other credit card.
The weather in Banff and Jasper did not look great for the next week, with colder weather and thunderstorms in the forecast, but we discovered these temperatures must have been measured at the top of the Icefield Parkway or somewhere much colder than where we camped.  Hooray!
Unlike the US national parks, the roads going through the Canadian parks are highways.  They even have fences along the sides with animal overpasses every few miles.
In addition, the campsites are very different too.  Most have electric and include the price of unlimited firewood if you buy a fire permit.  Our site at Lake Louise was in a trailer-only campground back-to-back with another campsite, and Jill had to stay in the "tent" campground next door, surrounded by electric fence and a large gate due to the area being a popular wildlife corridor.
Within minutes of arriving, we met up with this big guy along the road.  Bears abound in Banff!
Lake Louise is something that everyone needs to see sometime in their life.  The colors in these photos do not do it justice, but the sparkling blue water is simply incredible.
In addition, the Canadian park lodges spare no expense.  If you don't like roughing it in the US bare boned park lodges, Canada is your place!  Nothing compares to the views out these windows!
Just outside of Lake Louise is my favorite spot in all of the parks – Moraine Lake and the infamous Valley of the Ten Peaks.  Again, my photos do not do this lake or view justice – you will have to see for yourself just how stunning it is!
The boys were excited to receive these cool rocks from a Moraine Lake gift shop from my cousin Jill, who met us for our entire Canadian visit.  She has been able to adjust her nursing work schedule for the last three years to join us for some of our most remote stops, and needless to say, she's hooked!
We took a short hike from Moraine Lake to Consolation Lakes on the coldest day of our trip.  It was a great way to keep warm, and the kids loved climbing on all the huge boulders.
After our 6 hour drive the day before, we stopped at the visitor center and discovered we didn't really have enough time to squeeze in another big attraction, so we opted for rest time for Chuck and the younger kids, while Jill, Ethan, and I went straight up a mountain to Mirror Lake and Lake Agnes.  Despite the fact that the trail was widely used by horses, and more like a road, there was such a beautiful view up there!  I love how Canada incorporates these cool tea houses in the middle of nowhere!
We began our next day with the highly recommended Stanley Glacier Trail in Kootenay National Park.  Not only are Banff and Jasper connected, but also Kootenay and Yoho National Parks, with some amazing sights.  Since we had converted to kilometers, this 9K, 1/2 day hike was beautiful, and the boys discovered a couple really cool fossils along the way.  Even though we were spending 3 nights in the Lake Louise area, we were still having a hard time fitting in some of the biggest highlights of the park, so this was one of the few longer hikes we took in Canada.  It seems that many of the attractions are roadside in Canada, so time wise, it worked better to see more attractions and take shorter hikes.
Not far from Stanley Glacier is the short 2K hike along the amazing Marble Canyon.  The further you walk, the deeper and more amazing this canyon gets!
From there, we checked out the culturally significant ochre beds and paint pots.  If we weren't in a hurry to head back for lunch and hit another national park, our kids would have loved to get messy in those paint pots!
After heading back to Lake Louise for a quick lunch at the camper, our crew took off for the also incredible Yoho National Park.  Takakkaw Falls tumbles almost 400 meters (1200 feet), and the roaring water and spray from below can't help but give you the chills.
We made a quick stop in the cool town of Yoho, as well as the visitor center (one of the few places we could check in with the world on the spotty wifi) before heading off to our next stop.
Perhaps our favorite stop on our two day race through Kootenay and Yoho is the jaw-dropping Emerald Lake.  These glacial waters were more amazing than any others we had seen, and we only wished for more time here.  The European type villas along the shore would be the perfect spot for non-campers.  Perhaps someday we will return to enjoy the beauty of this amazing spot.  We would have loved to take a rowboat out on those waters, but as our stop was late in the day, the dock was already closing down when we arrived.  We did have a great walk around the lake though.
I love how well our kids get along…usually.  We could understand why Laney thinks her brother Braden is a prince and wants to marry him 😉
The next morning, we took off on a 3.5 hour journey over the Icefields Parkway to Jasper National Park.  It is difficult to stop with the camper now, but we enjoyed seeing many more turquoise glacial lakes.
The visitor center at the top has a gift shop, restaurants, movie, and more.  If you decide to do the skywalk or tour the Columbia Icefield or Athabasca Glacier, this is the place to do it all!
We are getting accustomed to the advantages of travelling with a camper.  Here's our camper parked atop the Icefields Parkway with an amazing view of the glacier, eating frozen pizza for lunch.  Ethan, Jill, and I went for a walk out by the glacier while the others played a game of Splendor in the camper instead.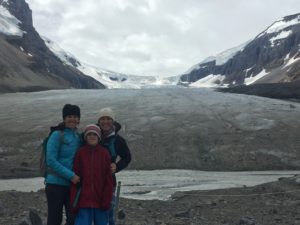 After a long drive up to Whistlers Campground in Jasper, we were happy to explore the town of Jasper, and Pyramid Lake.  Cold lakes are a norm for us now, so the kids are totally unfazed by temps I wouldn't dare.
The bridge through the lake allowed us to explore a nice island just for kids.
Back at the campground, the kids gathered around what we call a "nature playground."  The girls enjoyed a girl party sleepover in Jill's tent while the boys stayed up late listening to "Glacier Ghost Stories."
As simple as each campsite might be, the excitement over a new home never ends for these kiddos.  The hammock has provided a nice break from all the action, and the animal home building amazes me each time they recreate a new habitat.
We were greeted by these elk every morning in our home at Whistlers Campground.  The baby provided the best entertainment!
The electric campsite provided a nice break from our dry camping in the US national parks.  Our griddle got a lot more use this year than many other trips!
Like Lake Louise, we had lots of places to see during our 3 night stay in Jasper, so the next day, we headed off for a full day of sightseeing.    Our first stop was the amazing Maligne Canyon.  While it was pretty amazing to see the water flowing and continuing to form the canyon, I look forward to a day we can return to walk inside the canyon when it is iced over.
Along the same road, we passed so many bighorn sheep.  The reflection of the mountains in Medicine Lake is something I will never forget.  We were fortunate enough to see a bald eagle and bear along the way.
After missing out on a boat ride in Emerald Lake, we were excited to rent a rowboat on Maligne Lake.
Since boating is such a popular activity on these amazing lakes, we waited near the boathouse while getting a little swim in.
We had so much fun floating through the turquoise waters.  Of course everyone had to take a turn trying to steer our big boat.
As we continued on to the Miette Hot Springs, we encountered lots of road blocks trying to get there!
Dinner was cut short as our new friends decided to close in fast!  We had the girls hide under the picnic table as they could not be deterred.
Nothing is better than an evening in the mountain hot springs, some ice cream afterwards, and to top it off, rainbows on the ride back.
Our last day in Jasper was action packed and fun filled.  At Mt Edith Cavell, we enjoyed learning more about Angel Glacier and the avalanches hitting the area over the years.
A nearby lake was so blue we couldn't resist pulling off the road to get a little closer.
Lunch at Athabasca Falls was topped off with stuffed Twizzlers to the delight of the boys.
We were surprised at the thundering white milky waters after seeing pictures of the turquoise river in many pictures.  As we read the signs, we learned that the heavy glacial melt in the summer makes the river white, while the blue waters return in the winter as the glacial melting decreases.  It was so cool to walk right through old canyons formed by the powerful river.
The Jasper librarians number one recommendation was a hike through Valley of Five Lakes, so the boys, Jill, and I took a chance on some rainy weather and hiked out into the valley.  We were so glad we did!  All five lakes were so colorful!  Again, if we had more time, we surely would have joined the Canadian natives for a swim!
Our evening was spent swimming in Lakes Edith and Annette.  We made pie irons for dinner on the provided fire pits, with our own pavilion to shelter us from the threatening weather.
After being as far north as we would be on this vacation, it was time to start backtracking south and east.  The next day, we drove the 4 hours back over the Icefields Parkway into Banff for our night at the highly popular Two Jack Lakeside campground, also popular with the bighorn sheep.
Of course, we had to take a picture of the famous red chairs, which are strategically positioned amongst the best views in the Canadian parks.
One of our sites was right on the most colorful water we had seen yet.
We wished we could have stayed here even longer, but our last night was to be spent in Johnston Canyon.  Chuck and I had been here many, many years ago, and had forgotten just how cool it was.  The manmade boardwalk through the canyon is the most amazing way to experience the true beauty of this place.
Our last evening was spent driving in to Banff for a fun night with Jill before we went our separate ways.  We explored Cave and Basin National Historic Site, where the endangered Banff springs snails live.
We had a bit of culture shock as we explored Banff, the biggest town we had been in for a month.  It was so nice to experience a restaurant meal after so many camp meals!
The evening was topped off by a trip to the Banff Hot Springs.
We packed up early the next morning for a long drive back into the US.
Our early wake up was rewarded with a great view of this guy, just outside the campsite. Yikes!
 On the way out, we passed back through Calgary and the Olympic Center… a reminder that we will be back again when we have more time to explore!  Oh Canada!