With the longest break to date following Christmas Day, winning a two night cabin stay at Snow Mountain Ranch, and friends willing to host us for almost a week while they were at their mountain home, we knew this break would find us in a place we love, Granby, Colorado.  This was one decision that was unanimously agreed upon.  All seven of us couldn't wait to get to the place we love so much.  We were still able to do all the family Christmas parties, but then immediately bolted the morning of the 26th.
With no camper in tow this time, we hotwired a hotel in Kearney, Nebraska at the Country Inn and Suites for a whopping $58.
The 9 hour drive was easy, and like all Nebraska hotels we have stayed at, it did not disappoint.. if anybody knows hospitality, it's Nebraska.  We arrived to a free family friendly happy hour, with snacks and soft drinks, followed by a fun dip in the pool.
Breakfast was great, complete with omelet bar.
Day 2 of driving was uneventful except for the flat tire we had driving through Denver.
We raced to the nearest Discount Tire as we deflated, hoping not to have to empty the full car to switch to the spare… and we made it!
We almost always have some trouble getting through Denver, and the snow chain link through the tire was no exception.  The I-70 view never disappoints once we make it into the mountains!
Luckily, we were on our way within an hour or so, and made it to the M family's house before dinner.
We were so excited to see our dear friends, and thankfully, they were happy to have us.  Check out the cool view we woke up to every morning.
Unfortunately, we put our poor friends through lots of drama in the first few days of our stay.  Ellie and Braden suffered from a little altitude sickness during our first couple days, which often portrays itself with flu-like symptoms.
Right after they acclimated and recovered, Laney developed a series of bite-like lesions on one knee.
As it is winter, and there aren't many bugs around, we were certain we had infested ourselves and consequently, our friends' home with bed bugs from our Nebraska hotel stay!  We started washing EVERYTHING that night, and I didn't sleep a wink that night, plotting how to attack what we thought was our biggest travel issue ever!  However, we awoke the next morning to only Laney with a full body rash of hives, and realized that our poor girl was having an allergic reaction on day 8 of her Cefdinir treatment for a terrible ear infection.  Despite stopping her medication immediately, the rash continued to get worse while Laney became even more uncomfortable.  The only things that offered her comfort were an ipad and oatmeal bath.
Her poor little feet swelled so badly that she couldn't even walk.
I slept beside her at night to keep her from itching.  Our poor baby was in rough shape!
Throughout our 5 night stay with the M family, the group continued to have fun.  My ideal vision of a great vacation is having our group move as a pack… if some of us snowshoe or snowmobile, we all do.  With the circumstances we faced this time, this was not possible.  Our wise friends have told their children, "sometimes you will get to choose your activity, and sometimes you won't get to choose."  Almost all of the time, the Hoffpack is led by the "alpha pair," Chuck and me.  Just like a wolf pack, we make the decisions for our pack of 7, knowing that our decisions will work out best for the group.  After all, our kids don't often realize how much fun they will have doing what we are planning until they have done it 😉 But… on this occasion, because of our issues, we allowed the kids to choose which activities they wanted to participate in, and which ones they would skip.  There really was no other option this time, and the kids were so thankful and happy with all they did… as were the adults.  Through it all, we managed to fit in several outings on the snowmobiles.
(Ellie loved driving with Daddy)
(Laney was a pro before she had her allergic reaction and couldn't wear shoes, and loved riding with Mr. Rick because "he would beat Daddy")
The Dads made it out for an exciting trip with E,
and I even made it out for a trip up Gravel Mountain while Julie watched all the little ones,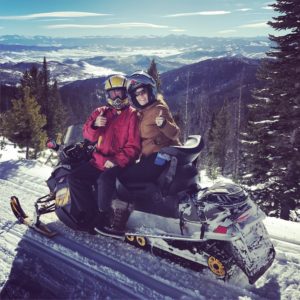 The kids got a kick out of heating up hot pockets via snowmobile.
The snowmobiles were great for some "alternate" activities around the neighborhood too.
Julie and I even made it out for a couple snowshoe trips in the park.
The kids spent endless time sledding and fort building in the yard.  It always amazes me to see what makes them happiest.
We couldn't stay away from Snow Mountain Ranch, even though we would continue the second half of our trip there soon.
New Years fun included some great game play and snacks!
The kids loved seeing the 1 hour neighborhood light show at a local man's home.
Chuck was able to see 5 of these guys on his morning runs!
Flexibility and a willingness to abandon ideals are musts when traveling!  We couldn't have asked for a better time than our visit with the M family, and we are so thankful for their friendship and willingness to embrace us and all our drama this time around!