Last year, we were fortunate enough to stumble upon a $80 roundtrip airfare to Denver on theflightdeal.com and had the time of our lives visiting our dear friends, the M family!
This year, I went looking for a similar deal and found one on Frontier for $81 rt, after taxes and fees were added to the $15 fares.
There was one catch – flying on Frontier means you have to pay $40 for a carry-on each way, which would be as much as one of our round trip tickets. Of course, we would not do that! So… we were limited to bringing just a 'personal item,' and a backpack qualifies. I was up for the challenge, and excited to travel with less, so we unloaded our school backpacks and reloaded them with our Colorado essentials.
A few friends were baffled as to how we would achieve that with snow gear and all, so I took a few pictures of what we deemed important for 4 days in the mountains (or 5 when your flight ends up getting cancelled)!
Due to lack of available space, we knew everybody would have to wear their boots and snow pants on the plane.
We packed an extra pair of shoes, which ended up unused, but I was happy to have them in case of emergency. As far as clothes, layering was key. We have these fabulous waterproof/breathable coats from Lands' End with a zip in fleece to accommodate different weather conditions that I was able to get 50% off the clearance prices on and make great travelling coats.
In addition, each of us had another heavy layer packed away for extra warmth when needed. You never really know what kind of conditions you might have in Colorado. Last year, we landed in Denver when it was in the 70s, and this year, it was in the 60s.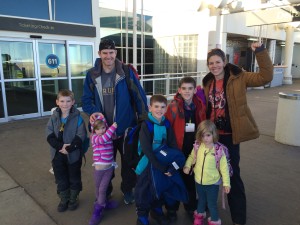 In the mountains, it was in the 40s and 50s last year, yet it was in the 10s and 20s this time. Everybody had a couple t-shirts, long sleeve tees, 3 pairs of pants, pajamas, hats, gloves, underwear, socks, and water bottles in their own backpack.
Additionally, one pack had a few snacks for the airport, including pizza muffins (courtesy of my friend Cassie), granola bars, and gum and suckers for the plane.
Another had deodorant and toothbrushes, and one had all our ski goggles.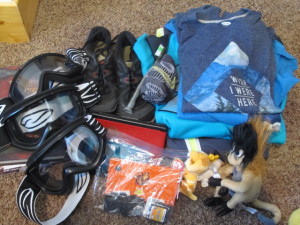 Mine had our charging devices and cameras, and Chuck's had our GoPro and swim suits.
We had enough space to pack a few books, DSs for a little plane entertainment, coloring books, fuzzy friends, and the much needed cozy blankets.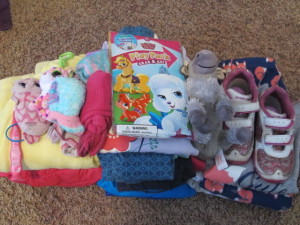 We are always fortunate to visit these amazing friends, who pick us up at the airport in their extra vehicle, already loaded with car seats and boosters for our crew,
and enough skis, helmets, snowshoes, and skis to support our big family in addition to their own. Everybody needs friends like the M family with a fun winter getaway destination 😉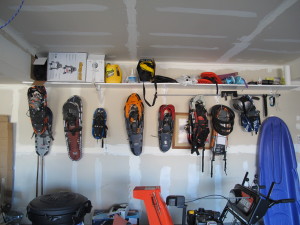 It made for such easy packing since we didn't have much space, and ironically, we probably didn't use half of what we brought! Honestly, when you are going through security with 7 backpacks, 5 kids, coats, and snow pants, it feels as if you packed a ridiculous amount and we found ourselves wishing we had even less.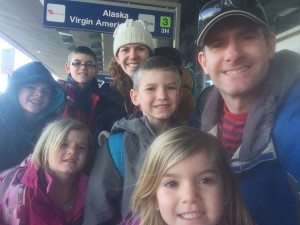 After this trip, I hope we can travel this way more often.
It was refreshing not to have a bunch of junk to lug around and worry about, and easy to load up our small packs in the car for our adventures each day. We are looking forward to sharing some of the winter fun we had while we were in Colorado.