We had finally made it back to Colorado, and were so fortunate that the stars aligned once again, and the Davids would be meeting us at Mesa Verde after a business trip up to Durango. This time, we were excited we had reserved an electric site at Mesa Verde, but the site was so tight, it was the most difficult spot we have ever had to get into.
After setting up camp, we purchased tour tickets for the following day. We did Balcony House with our 7, and planned to meet up with the Davids at the visitor center for lunch, followed by a trip to Spruce Tree House and a tour of Cliff Palace.
It's pretty amazing how close to the edge they decided to build, as hanging around for the hour tour gave me anxiety with 5 kids along! Thankfully, none of our kids have a fear of heights, and I trust them, but accidents happen all the time, so you can never be too careful! Balcony house had 40 rooms.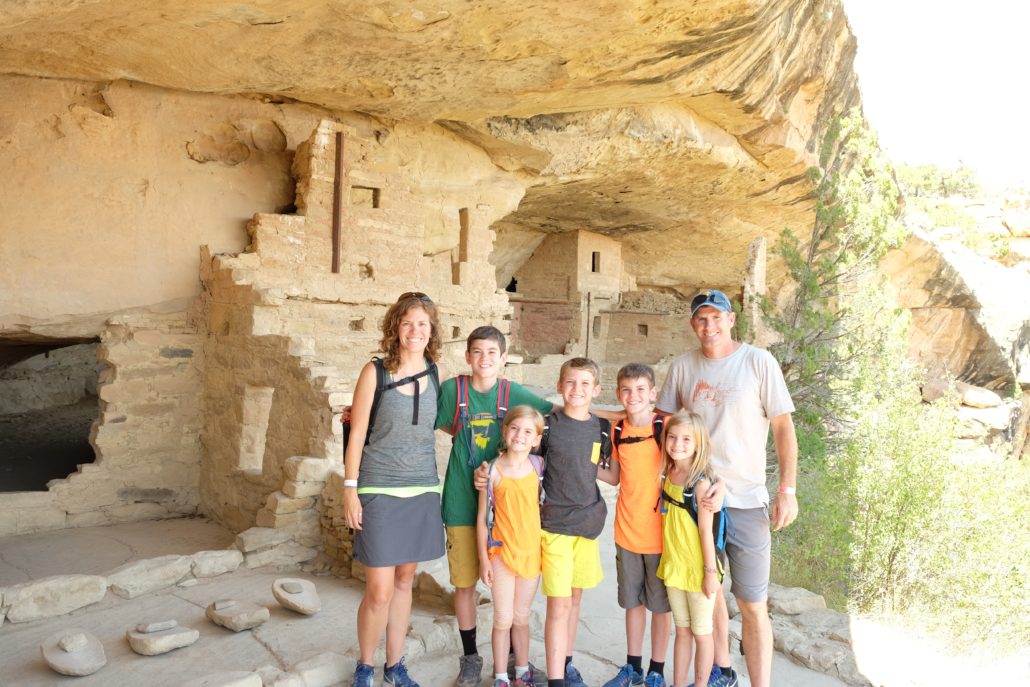 This tour requires visitors to descend a 100 foot stairway, climb a 32 foot ladder, crawl through a 12 foot, 18 inch tunnel, and then climb an additional 60 feet of ladders. The kids had a blast of course!
Before meeting up with the Davids, we took the car tour around the loop at the end of the road, and stood in amazement at the locations of some of these cliff dwellings. We couldn't imagine choosing to position a home in these places!
After meeting the Davids, we took a short hike to see Spruce Tree House, which tourists are no longer allowed to enter.
Finally, we finished our sightseeing for the day by taking a tour of Cliff Palace, which has 150 rooms and 23 kivas, housing 100 people at one time.
The kids fit better through these crevasses than us, so it's no wonder the natives were much smaller than modern day Americans.
Back at the campsite, we decided to take a little hike, and were pleasantly surprised by the amazing views.
Back at the campsite, down time is so important. Just to illustrate that the Hoffs don't always get along, here's a shot of Ethan and Ellie in punishment mode for a buddy hug. One of them looks happier to be hugging than the other, don't you think?
Before leaving for our next adventure, the kids were excited to earn their next junior ranger badge. Throughout the summer, we have our kids working on bridge books, in addition to reading time in the car and junior ranger activities in the park. Travelling is such a great time to learn!
Mesa Verde, we will definitely be back! (travel dates 7/6-7/8/18)