For years, we have wanted to visit Costa Rica. In November 2018, we started looking at flights for spring break 2019, and discovered that airfare to San Jose, Costa Rica was far cheaper than flying anywhere in the US. It was literally half the price it would have been to fly to Florida during that week. We have all had passports from a trip into Canada, so this was a no brainer for us! A quick search of car rentals and lodging showed that rates were not too expensive, so we booked the last 7 tickets at that price. The planning for an international trip for our family of 7 seemed overwhelming at first, but with all the blogs, trip advisor, and friends who have been there, we had a plan in no time. Ultimately, we decided to spend our time in two locations, Arenal and Manuel Antonio.
We flew Avianca, which is an airline based out of Central America. In January, our 1am Sunday morning flight was cancelled and switched to 1am Saturday, which totally freaked us out at first. Luckily, flying early Saturday ended up being even better, as it would allow a 10th day in Costa Rica, so we rearranged our plans a bit, and everything worked out wonderfully. We arrived in San Jose at 8am Saturday after a stop and plane change in Gautemala City, tired but excited to have a full day to explore Costa Rica.
Our initial search for car rentals showed rates were relatively low, but as we did more research, we read that many car rental companies did not actually have the car you reserved, were in poor shape, charged you for lots of extras and fees not disclosed, or for issues with the car after leaving the country. With 7 of us, a large suv was the only option we had, so we opted to pay the extra for the highly rated Vamos Rent A Car. We had no issues whatsoever. Additionally, we paid $5 extra per day for a GPS, which was crucial to finding our way around Costa Rica.
Arenal
Arenal Volcano created a thermal area near La Fortuna, which sounded like heaven to our family of hot spring lovers. We aren't afraid to cheat the hotel system here in the US, but didn't want to get in trouble in another country, so I spent some time calling around to see who could accommodate our large family. Many of the resorts in the area said we would need two rooms, which was not a good option for us, not to mention expensive. Fortunately, one of our top choices, Arenal Springs Resort, said that squeezing us all into one room was not a problem for them if it wasn't a problem for us. We have squeezed in much smaller spaces, so it certainly didn't bother us! They even added an extra bed to the room, which was already equipped with two queen beds. Upon arrival, we couldn't have been happier with this amazing resort. We were greeted with welcome drinks, a golf cart ride, and tour of our room. One of the best parts of th room was the amazing bathroom. When it rained, water would run down the rocks along the shower wall. Our windows looked out over the beautiful Arenal Volcano.

The hot pools were absolute heaven! The kids did spend some time in the two cold pools, but the hot springs were the most amazing part.
Our next stop was Tabacon Hot Springs just down the road. Because of the volcanic thermal area, there are hot springs resorts everywhere! We had researched that Tabacon was the most famous hot spring in Costa Rica, and the pictures convinced us to splurge on a half day pass with lunch included. It did not disappoint!
We walked around like kids for hours! There were trails and different natural pools to explore everywhere! Underwater cameras were a huge hit here. We hung out under waterfalls, checked out underwater creatures and enjoyed a morning of pure relaxation!
They even had a waterslide into the main hot spring pool, which the kids LOVED.
The plants and attention to detail here was incredible, and someday, we will definitely be back.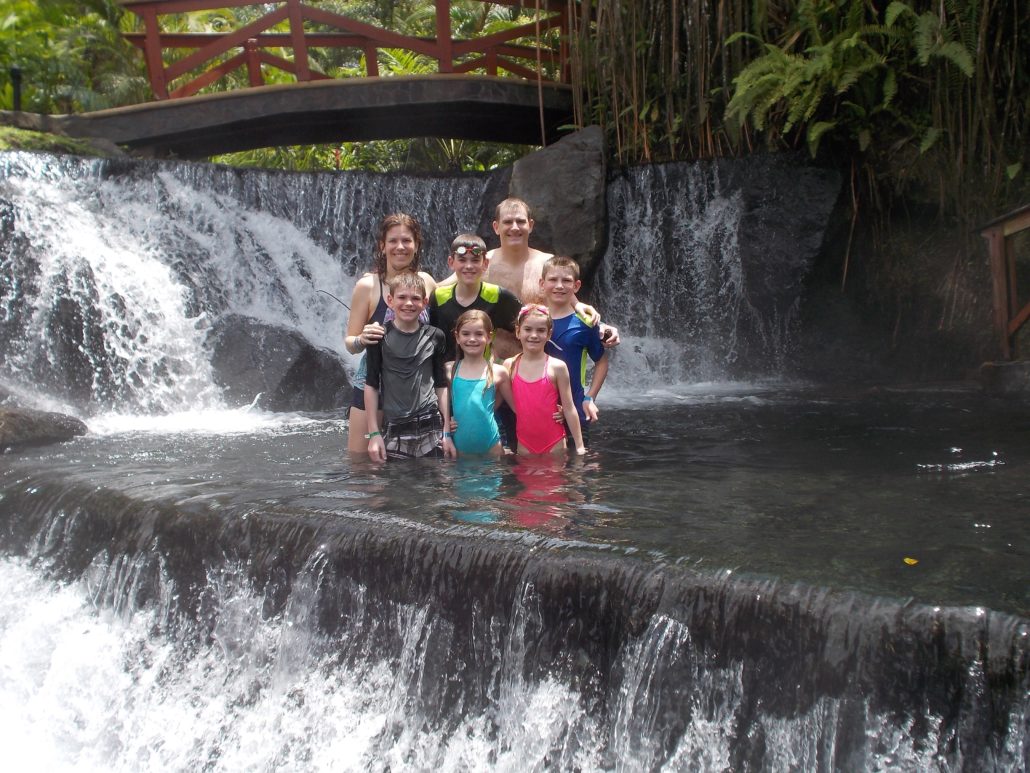 The lunch buffet was like no other, including steak, pasta, fish, fresh fruits and salads, soups, and more. Of course the Hoffs favorite part was the incredible dessert!
Arenal Volcano looms overhead almost anywhere you go in the area. We decided to take a drive to check out some different views along Lake Arenal and ran into some monkeys on the way.
Perhaps the kids favorite part of the day was running into these curious coatis. When cars pulled over, they raced over to say hello.
Back at Arenal Springs, we enjoyed the rest of the day soaking in our home springs. The night was filled with live local music and exploring all the incredible little spots our own resort offered. We enjoyed volcanoes filled with candy, morning yoga, evening workouts, relaxing in the hammocks, and the best breakfast buffet we had ever had!
The next morning, we woke up to typical rainforest downpours, and packed up our rain gear for a hike in Mistico Hanging Bridges Park.
The trees were huge, and the trails well maintained, but the hanging bridges were just incredible. The girls were quite frightened by them, but the rest of us were awestruck of the amazing views above the rainforest.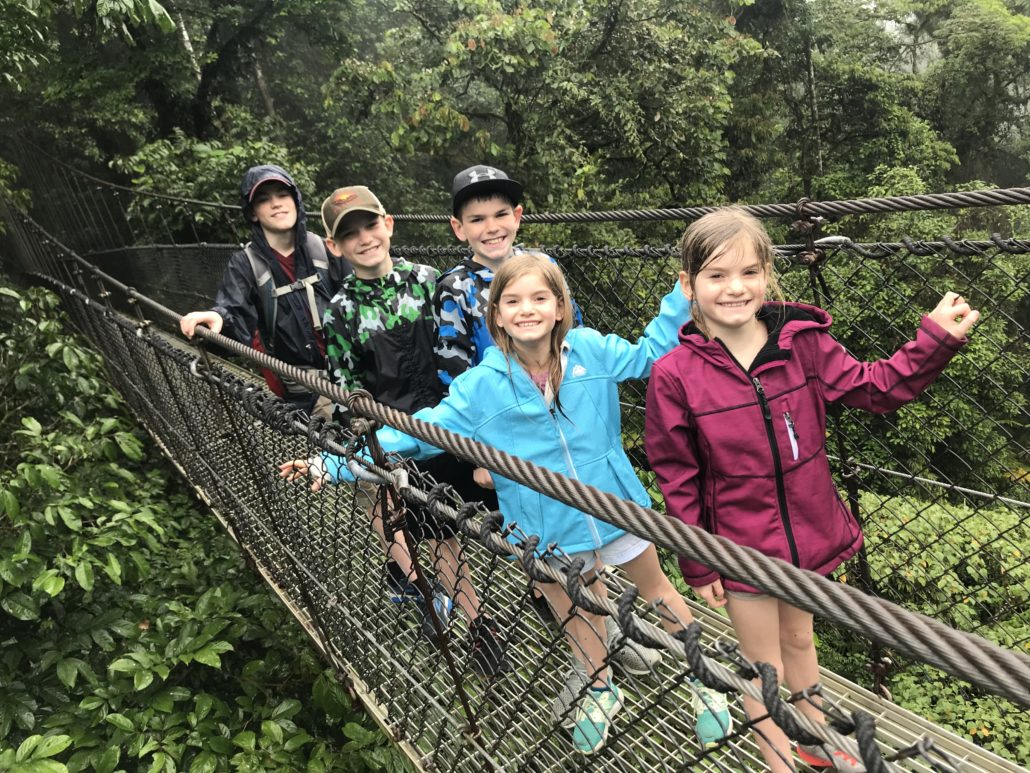 On the way back, we stopped at The Springs Resort to check it out, and were once again floored by the semis going over the small one lane bridges.
The girls had opted to wear their sloth shirts on this day, and when we came across our first sloths, mom and baby, they could not have been more excited!! In fact, all of us were! What an amazing sight!
We could have stayed there watching the sloths all day, but finally succumbed to hunger and headed into Fortuna for some food. We found a cheap local grill with the freshest food, and everyone was in heaven.
The following day, we decided to check out the hot river next to Tabacon, totally free, and all to ourselves. It always pays to get up early to explore!
We followed it up with one of our favorite Costa Rican experiences, zip lining. We chose to zipline with Arenal Mundo Aventura, one of the most highly rated in the area. They could not have been better! We had 12 different zips, some of them over area waterfalls and one of them was 1/2 mile long! A canopy tour is an absolute must in Costa Rica!
In addition to zip lining, we were able to enjoy their frogs and butterfly garden.
On the way out, we were able to see art work created by the Maleku tribe, which Braden chose to purchase as his souvenir, along with a stop for more nachos from our favorite little grill.
We literally soaked up every last moment we had at Arenal Springs Resort. We couldn't have been happier with our chose to stay here!
Arenal Mundo Aventura had their own private entrance to La Fortuna Falls, and we couldn't have been more thrilled! What would have cost us $15 a person was free upon our return the next day! Our original plan was to take the tractor up and hike a short trail down to the waterfall, but after waiting for awhile, we decided to make the trek ourselves. The water was so refreshing!
On the way out, we stopped by a local hangout to try the rope swing. We could have spent several more days here in Arenal exploring even more! We were so sad to leave Arenal, but the coast was calling, so we headed back to the resort to check out and head 4 hours away to the Pacific Coast. Stay tuned.