We have visited Yellowstone more than a dozen occasions, yet every time, the excitement of the unknown keeps us coming back for more. Why? We wonder which animals we will encounter, what the unpredictable weather will hold, where our newfound favorite spot will be, when the geysers will erupt, and who will join us for another adventure in one of our favorite parks.
We typically come up from the Tetons, so our first stop is Grant Village and campground, and we like to stay 2-3 nights. Grant has a large campground with lots of larger sized sites, a gas station, restaurant, diner, gift shop, gas station, visitor center, laundry, and lodging options for any non-campers. It is on Yellowstone Lake, and the West Thumb Geyser Basin is only a couple miles away.
The lake is big, so it is very cold to swim in, but we enjoy taking a stroll through the campground along the many paths to the lake and over our favorite, yet terrifying suspension bridge.
Because the weather is so unpredictable in the park, we like being in the bigger villages like Grant because there is always somewhere to go if being outside is not an option. In addition, your $28 campsite earns you 2 free showers per night (showers are in the Laundromat), a welcome treat after being in the Tetons for a few days. Despite the inconsistent weather, you are almost always guaranteed seeing elk near Grant. One year, we watched an elk give birth near the West Thumb.
Another time, we pulled into Grant only to find out it was opening day! Because of bear activity in the spring when cutthroat trout spawn, Grant Campground does not open until mid to late June. The old Fishing Bridge tent campground closed down permanently years ago due to human-bear conflicts. Now, the only RV Park in the park exists at Fishing Bridge, allowing only hard-sided campers. At $50 per night, it is the only campground in the park with electric, but it does not allow fires or have picnic tables. Fortunately, it is located between our two favorite campgrounds, Grant and Canyon, so if you have to have electric, it has a good location.
Visiting Old Faithful is always a hit. Since there are no campgrounds there, we visit while we are staying at Grant. If we have friends with us, sometimes they choose to spend a night or two at Old Faithful, which I definitely plan to do in my lifetime, possibly on a winter trip to Yellowstone someday (only the Old Faithful Snow Lodge is open in the winter here). The world famous geyser erupts almost every hour, and scientists have the predicted eruption time down to minutes, so you are guaranteed a viewing if you have allowed to spend at least an hour or two. The park has invested a lot of money into this area, and we typically stay almost a whole day there.
The Old Faithful Inn is one of the most impressive log structures of all time, so we love sitting inside, touring the different levels, checking out the gift shop, relaxing on the deck while watching Old Faithful erupt, or even enjoying the delicious brunch there.
It is a welcome break to the monotony of camp foods, especially since we have not been to the grocery stores in days at this point. The visitor center is one of the best in the park, and the extensive boardwalked trails through the geyser basin surrounding Old Faithful is nothing short of amazing.
It is not uncommon to run into a bison or two here, or other wild animals such as coyotes there.  It is always surprising to see the large percentage of tourists from countries other than the US.  The girls had their own paparazzi  last summer – the Chinese could not resist the blonde twin oddity, and we caught them taking pictures on the sly many times – here's one time they were bold enough to ask and swarm the area to snap a pic of our little cuties.
Yellowstone is great because despite having some of the best backpacking trails in the US, it also has some of the most rewarding short trails, so we have never been at a loss for things to do with little ones. The boardwalked trails around Old Faithful, and other areas such as West Thumb, Mammoth Hot Springs, and Norris are great for families because they are short and entertaining.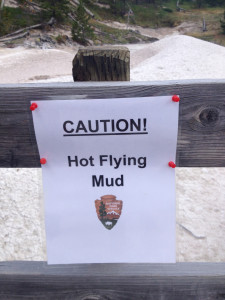 (and yes, we have been hit by the flying mud)
Most of the geysers or hot springs have names, and some of them bubble, shoot mud, or their turquoise waters appear to be infinitely deep.
The kids always enjoy picking a favorite and love having their pictures taken with them.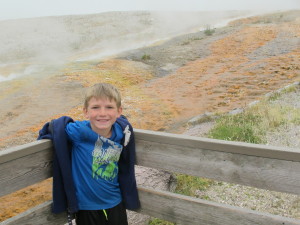 There are several basins as we drive a little further past Old Faithful to the Madison area. All of them are unique, so we try to stop at as many as we have time for. Another favorite is the area along the Firehole River, where the scorching geyser water mixes with the cold river, creating a wonderfully warm play area along the Firehole Canyon Drive. It took us years to learn about this park secret, but we always make it a point to go and play in the river now.
The kids love swimming the warm waters and visiting the caves along the river.
The big kids like to jump into the rapids area, where you feel like you get sucked underwater and shot out downstream. (My cousin John mastered this skill last summer).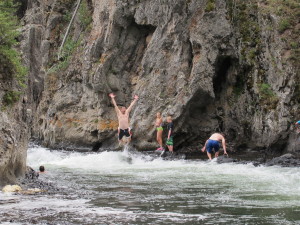 If we have a little more time, we leave Firehole and head for Madison to visit the junior ranger station, or the many bison in the area.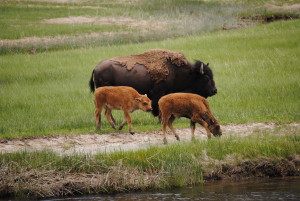 Madison is another reservable campground, but because it doesn't have many amenities, we usually opt for Grant and Canyon. If you are looking for a little more civilization, West Yellowstone is close to Madison and has plenty of places to stay, restaurants, and even museums.
When we leave Grant campground, we head north through Hayden Valley, which is rich in bison and other wildlife. Lake Campground is also reservable, but not our favorite. We may have gotten scared away the year we woke up in the grassy grounds to discover a bison right outside our tent 😉 Last year, we were delayed more than two hours by a herd of bison that refused to open the road to vehicles on this route. (The drive to Canyon is less than 30 miles, but it can take hours, depending on what animals are blocking the road)!
We also get a kick out of seeing how close the bison get to the geysers.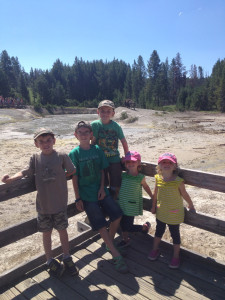 One of our favorite stops along the way is the Dragon's Mouth geyser and basin.
If you let your imagine run wild, you truly believe there is a dragon behind the violent, rumbling, and steaming geyser. This is probably my favorite geyser!
Canyon Village has so much going on, all the time. The visitor center is large and beautiful,
there are several gift shops and restaurants, and the lodges were recently redone and so nice. The campground is one of the most popular, and it is difficult to reserve a spot, especially the larger 40 foot ones that are few and far between.
We try to reserve far in advance, but since sites can be booked so far out, and can be booked for several nights by depositing the first with no cancellation fee 30 days in advance. We have finally gotten smart and starting playing the game by booking windows of time and cancelling the nights we will not use when ours plans are finalized.  We prefer to spend 3-4 nights at Canyon if time allows, but can squeeze in our highlights in just a couple days if we have to.
Grand Canyon of the Yellowstone is one of the most spectacular sights in the park.  I love taking my biggest little hiking buddy back to the same spot for an age progression here 😉
It is magnificently colorful and unrealistically deep, making it hard to tear your eyes away from the beauty. You can take the rim drive and stop at all the overlooks or walk partway down to get a closer view of the falls. We love wearing the kids out on the long staircases.
Our favorite super kid-friendly hike in the park is a flat four mile loop trail near the south rim that gives you a rewarding walk along the rim, a taste of backcountry geysers, views of Clear and Lily Pond Lakes, and usually, a great story of bison on Uncle Tom's Trail.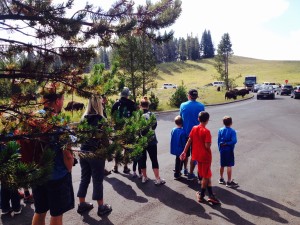 Last year, we waited so long to even get on the trail while a bison herd monopolized it, only to come upon a ranger almost a mile up the trail who said the trail was closed due to more bison. We turned around and went the other direction on the loop and made it all the way without seeing another bison on the trail. For as slow as they appear, those large animals can sure move along quickly when they choose. Chuck literally ran into a bear along this trail while running one early morning, an incident that will be discussed in more detail another time, but one that spooked and prompted him to make more noise and carry bear spray religiously when out alone on his early morning runs.
From Canyon, we like to spend at least one day travelling north to Tower Falls
and ultimately, our favorite place in the park, Lamar Valley.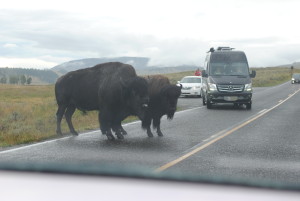 The best non-reservable campground in Yellowstone is Slough Creek, in the heart of the wildest and least civilized part of the park.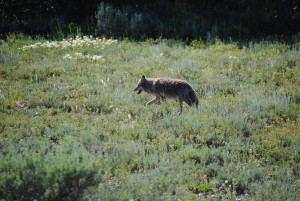 Before children, we used Slough Creek as a base camp for morning drives out into the valley, where we saw wolves from the Druid pack almost every time. You were almost guaranteed a view through someone's telescope at whatever wolf was out from one of the most studied packs in the world. Lucky for us, the pack denned on one side of the road, and hunted on the other in the valley. We have not camped at Slough Creek in years, mainly due to the fact that our children refuse to use pit toilets, and also because it is difficult to get a site due to increased popularity. Someday, we will return.
For now, we visit on day trips. If you didn't get enough bison elsewhere in the park, Lamar Valley is your place. There are so many bison, you can't help but be stopped by herds of them on the road. On almost every trip out to the valley, we have also encountered bears.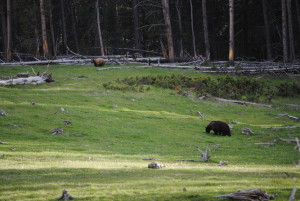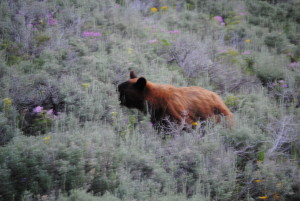 One year, we saw the cutest cub chasing butterflies. Another, we stopped at a picnic area to cook dinner and stake out bears, only to have a Wyoming native stop to warn us that a couple grizzlies were making their way across the river towards us… more on that another time.
We have never packed up our dinner faster!  We always stop at that picnic area (rain or shine) for a stakeout though 😉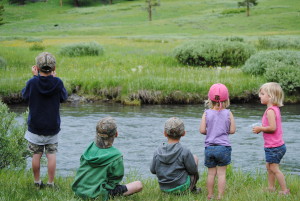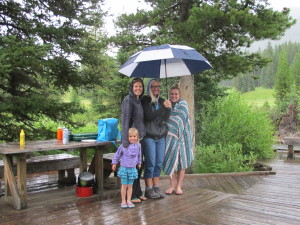 Depending which way we head out of the park, we try to stop at Norris (one of the stinkiest and most expansive geyser basins) and Mammoth Hot Springs.
Mammoth is the fifth reservable campground, but after staying there once among the sage brush covered campground, we choose to go elsewhere. In the northwest corner of the park, we find it to be one of the busiest areas, with hotels, shops, a museum, and herds of elk throughout the city.
However, Mammoth Campground is open year round, so if you are visiting throughout the year, Mammoth may be your place. If we head out of the park through the north, that usually means we are headed north to Glacier.
Can't wait to share some of the stories from another one of our favorite parks!