Leaving the Smokies was hard, but we knew we had so much to look forward to! I justified bringing the Easter baskets because I knew C would go for food in the new car with the baskets serving as a mini 'trough.' He even joined in the fun.
The drive through North Carolina was gorgeous, and we couldn't wait to see the Pienkowskis in Virginia Beach after our 8 hour drive (we went to high school with John and Patti, and John and Chuck were the best man in each other's weddings). They were the perfect hosts, with dinner ready for us and the boys giving up a bed and sharing a bedroom with our boys. It's been way too long since we spent some quality time with them.
One of the biggest reasons we love traveling is holding on and keeping these friendships authentic. The last time we spent more than an hour or two with them was when they honeymooned at our house when we lived in Colorado 17 years ago and a quick visit to California when they had their first baby 15 years ago. It's hard to believe, but since then, Patti has become a school nurse, and John retired from the navy after serving as the commander of the Mesa Verde, and has joined us in the field of teaching. Their boys are now 15 and 12, and couldn't have been more welcoming to our family.
E, B, and G had a blast with them talking Star Wars, Minecraft, Hobbit, Legos, and more.
The girls even adopted a perfect camping light that they wouldn't sleep without.

The next day, the Pienkowskis treated us to Crazy Good Donuts, freshly made and customized to your own liking.
Next, we enjoyed a morning hike to Ben's Scout eagle project, a bridge he built in a local forest preserve to allow bikers and hikers access further down a trail. The trail certainly needed it.
Our little scouts were so impressed! They are already talking about what they might do to become Eagle Scouts!
The girls and Gav loved flying back to the car like all the butterflies we saw.

After a quick lunch, we raced off to Virginia Beach to enjoy the sunshine and the kids first view of the Atlantic.
In addition to digging human sized holes,
football,
frisbee, and a remote control dune-riding car, we even got to watch a pod of dolphins near the shore.
Seeing the pelicans fly overhead was another special treat.
The girls loved finding 'treasures' in the 'pixie dust' 😉

We love seeing the world through the eyes of our sweet two four year olds.  Of course, we needed to make sand angels.
In fact, all the kids have crazy imaginations and great ideas.

After dinner at their house, John enthusiastically enlisted our boys in a long battle of 'The Lord of the Rings' game, which he purchased on their recent trip to the real Hobbiton in the shire.
Of course, this only encouraged Chuck to continue his extension on our original hobbit house in the yard. The girls loved making homemade ice cream with Patti
and petting their bearded dragon, Cody.
In fact, so did the boys 😉

After another great sleep, John was able to take us on base to the Norfolk Naval Station where he served as Commander of this $3 billion ship, the Mesa Verde.
Talk about impressive! This was definitely the most touching moment of this trip, knowing the sacrifice and dedication John has had to our country over the last 20+ years, and seeing the enthusiasm and devotion he has transferred fully to his family now.  He showed us aircraft carriers, helicopters, and even a submarine too.
He also took us to Oceana, where we checked out old planes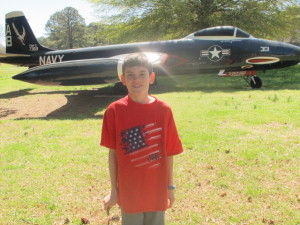 and experienced tons of F-18s flying right overhead. They were so fast… And incredibly loud!

We headed back to the Pienkowskis one last time to pack up and say our goodbyes. We needed to hit the road to get to part III of our trip in DC with the Paquins. The Hampton tunnel was backed up all the way, so we opted for the bridge and under ocean tunnel near Newport News.  How cool is that?!
We made it to colonial Williamsburg for a quick stop to hear the canons and watch a reenactment before continuing on our 4 hour trek to DC.
We reminisced spending our last night in Williamsburg on our 4000 mile bike trip 13 years ago.
We loved getting to see our good friends for a couple days, and are looking forward to visiting more friends in DC tonight!