It's no secret that the older we get, the faster time flies.  Unfortunately, vacations are no exception. As we said goodbye to several friend families, Chuck's families headed out from India and IL to spend our final week together at Snow Mountain.  Ben and Kimmy were the first to arrive from India, just in time for a jet-lagged evening of bingo.
It is always so good to see them, and of course they spoiled their nieces and nephews with treasured goods from India.
For the first time ever, we spent almost every day on the tubing hill.  The lines have died down quite a bit since it opened a couple years ago.
Father's Day morning was spent at the SMR fishing derby, even though it is one of Chuck's least favorite activities.  What a testament to the awesome dad he is.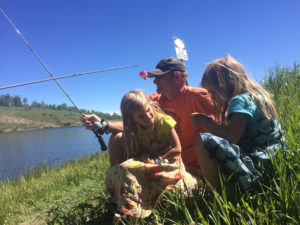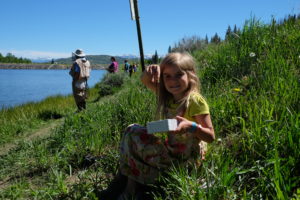 Shortly after, we took a drive up Trail Ridge Road to the summit of Rocky Mountain National Park to meet the whole crew, on their way over from a night in Boulder.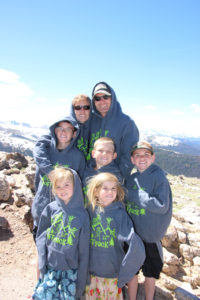 We were able to get some great shots on top and on the way down.
One of the highlights was getting a front row seat watching this mama and baby in action.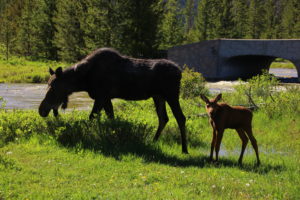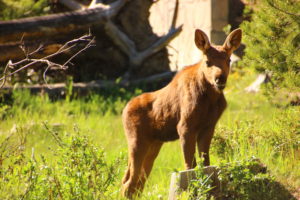 In addition to the 7 moose we saw, we were able to see plenty of elk too.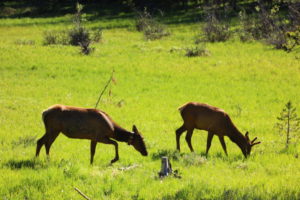 Father's Day ended around yet another perfect campfire.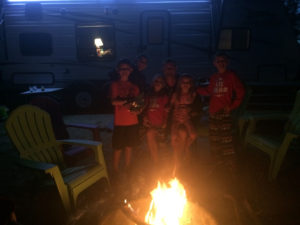 The next day was spent adjusting, playing board games in the yurt,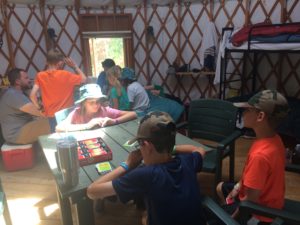 hiking up 9 Mile Mountain,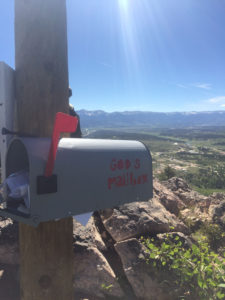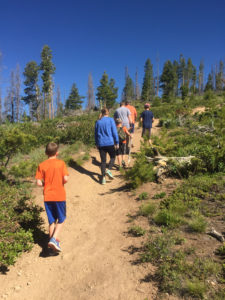 playing volleybounce on the tennis courts,
(For the girls, it meant singing along to Moana with their favorite counselor, Sarah… Laney's favorite activity of the week),
and hungry hungry hippos in the Kiva.
Tuesday was filled with fun.  We were so fortunate that Chaplain Steve offered to let us take his sled dogs for a walk around Monarch Lake, which was a highlight of the vacation for all.
Tipp was anxious to hit the trail, with Moose wanting to be lead dog for the whole hike.  Rosie was the sweetest of all, and Juni loved sitting in the water.
We were able to watch a and hear the thundering big bull moose  swim and run through the lake too.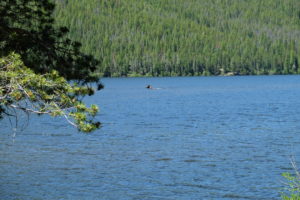 The girls continue to be highly entertained talking to their fellow hiking buddies on the walkie talkies.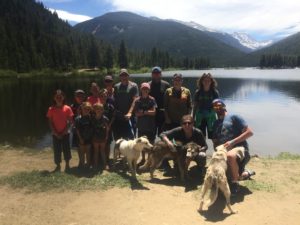 The Hoffpack loved getting to walk the Peterson pack!
We raced back just in time to play another round of gagaball.  The designated "dirt shirts" were definitely coming in handy in what I thought of as a human pigpen.
The family mastered cooking on the grills provided free by Smow Mountain, and the yurt pavilion definitely came in handy during a couple bad storms this week.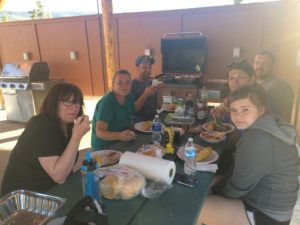 The Kiva is always fun, but I don't think I have ever seen such a competitive game of foosball.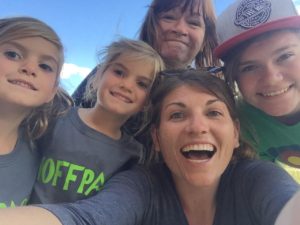 We enjoyed the evening magician performance, and Ellie loved being a volunteer.
We were surprised to meet up with the amazing Kluckhohn family at SMR this week.  They ended up making the trip after seeing our posts, and squeezed every ounce of fun they could with the few days they had there.  Chuck was able to pick up a couple running buddies in James and son Jacob.  We had so much fun getting to know them, and look forward to connecting with them when we return back to IL.
The boys loved doing archery with their cousin Sam and aunts and uncles.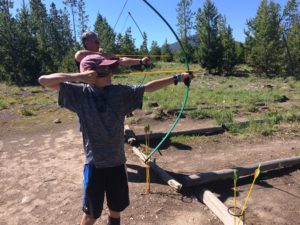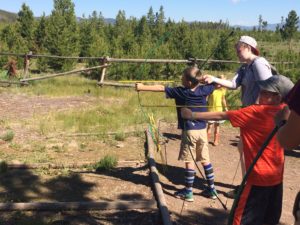 While the rest of the family went rafting that afternoon, we were able to head off with the M Family to eat ice cream, hang out at the Grand Lake Beach,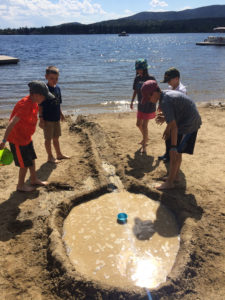 Park,
and get all of our laundry done at their place.
The girls were added in to the mix at the climbing wall now that they are 5, and Ellie raced to make it up 5 times, a feat many adults couldn't achieve.
Braden made it up 17 times in one hour,  a record for him, thanks to all the adults needing rest time between climbs.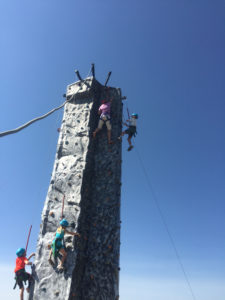 This is one creative family, so I think if we had headed to arts and crafts earlier, we may have ended up there every day.  The kids loved looking through the clearance rack for their second round of ceramics.
An unexpected storm came through one afternoon, forcing us indoors.  I was more than happy to hang out in the library and finally put a puzzle together.
We raced through dinner to make it down for the Hawkquest presentation,
followed by a little time playing in the puddles while the sunset on our final SMR nights.  We said goodbye to the M family,
The Hoff family down at the yurts,
and were treated to some delicious cookies from Gretchen.
The magnificent sunset was fitting as we said goodbye to family.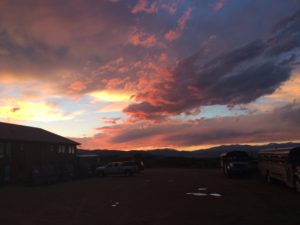 An evening around the campfire making s'mores and telling stories was the perfect way to end it all.
Our final day at Snow Mountainwas spent enjoying a belated Father's Day breakfast at the Commons,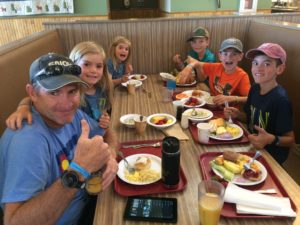 Picking up all our completed ceramics,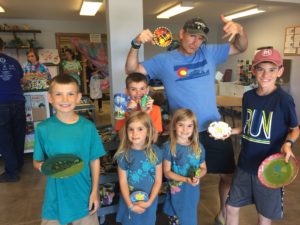 playing our last game of gagaball with the Kluckhohns,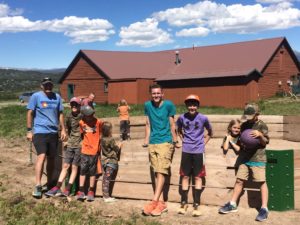 roller skating at the Kiva
and getting a picture with the infamous "Iceman,"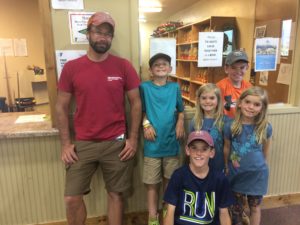 and saying goodbye at Bingo to our favorite programs gal, Sarah, who even managed to learn all our names, including the difference between the twins.
We always enjoy visiting the hummingbirds in the campground,
collecting firewood,
and loved looking around at all the beautifully painted bird houses.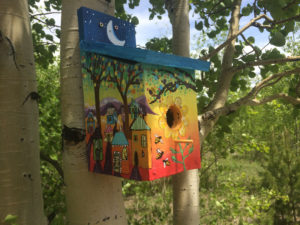 Ethan was not thrilled to take down our perfect hammock corner on our favorite SMR campsite.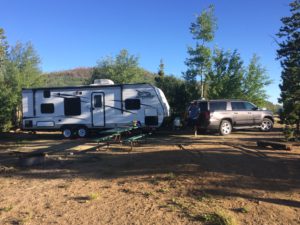 Every year, there is resistance to take the annual homestead pic, but I think fun was had by all once again.
We can't wait to return next year to see the completed adventure park.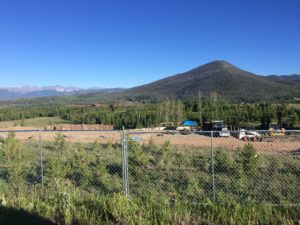 Every year, the magic continues to grow for us here at Snow Mountain as more fun is added, more friends and family join us (thank you to all 45 of the friends and family we have been able to connect with so far this trip at SMR), and traditions are rooted more deeply.
So long for now Snow Mountain! You are forever in our hearts!